Product Type:
Ultra hygienic Mix Proof double seat valve with seat lift function.
The APV DELTA DA3+ is a modern, ultra-hygienic double seat mix proof valve with seat lift function, designed to meet the challenging demands of hygienic processing.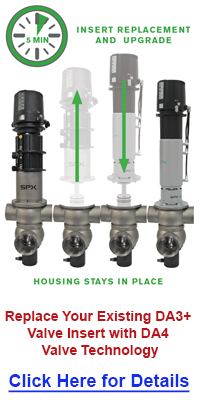 The valve is the result of continued development and improvement of its preceding models and has proven its reliability in many different applications for many years.
One of its features is that after upper or lower seat lifting during CIP pipeline cleaning, spraying of the leakage chamber is not imperative due to the efficient cleaning of the leakage chamber being carried out by the seat lift function.
More features and advantages:
Safe separation of fluids
Safe against water hammers
Integrated seat lift cylinder
Housing free of dead areas - no sump or dome
Crevice-free sealing with marked profile seals
Comprehensive cleanability of all product-wetted parts including shaft seal, seat seal and leakage chamber
Minimum consumption of cleaning liquids
EHEDG certified
ATEX compliant models
Easy to service
Product-wetted parts are made of AISI 316L / 1.4404 (DIN EN 100888) stainless steel. Seal material combinations: EPDM/PTFE, HNBR/PTFE, FPM/PTFE and VMQ/PTFE.
Nominal dimensions: DN 40 DN 150, 1.5 6, IPS Sh5 1.5 6
Many different housing variants available including mix-match sizes top and bottom valve housing.
DA3+ Double Seat Mix Proof Valve Maintenance Videos
Wartung des DELTA DA3+ Doppelsitzventils - SPX FLOW, APV
Mantenimiento de válvulas de doble asiento APV DELTA DA3+ - SPX FLOW, APV
斯必克流体(SPX FLOW)旗下的APV品牌DELTA DA3+双座防混阀的维护保养
DA3+ Double Seat Mix Proof Valve Operation Animations
DELTA DA3+ Double Seat Mix Proof Valve Balanced Design in Closed Position - SPX FLOW APV
DELTA DA3+ Double Seat Mix Proof Valve Balanced Design in Open Position - SPX FLOW APV
DELTA DA3+ Double Seat Mix Proof Valve Pipe Cleaning Upper Valve Housing - SPX FLOW APV
DELTA DA3+ Double Seat Mix Proof Valve Pipe Cleaning Lower Valve Housing - SPX FLOW APV
DELTA DA3+ Double Seat Mix Proof Valve Cleaning the Leakage Chamber - SPX FLOW APV
Mix Proof Valve Manifold Demonstration