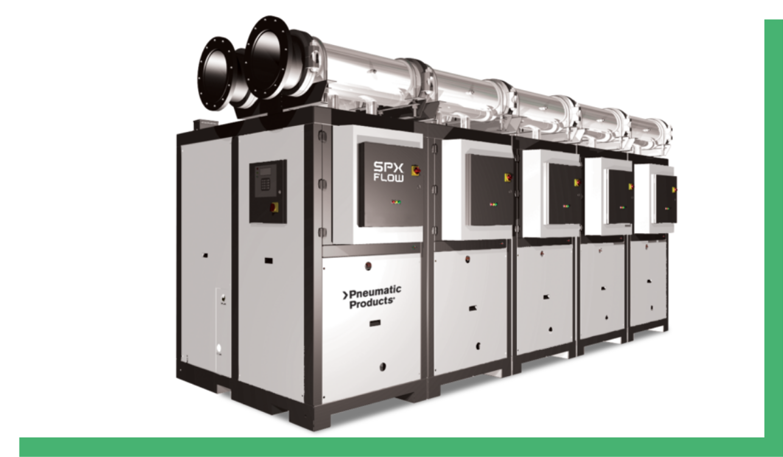 A Complex Challenge
From paper products to steel manufacturing, compressed air dryers produce our essentials. They're used for conveying, vacuum packing and fluff material, but the air inside must be sufficiently cleaned before being repurposed into these applications.
And that's where we help.
We launched our Hankison brand of dryers in 1948 to provide innovative air treatment solutions for these critical applications. Here's one example of how it's helped our customers:
A leading, global manufacturer of paper-based consumer products recently needed help developing a 'green' solution for one of their biggest plants. The manufacturer couldn't procure the correct parts to continually repair three large, refrigerated air dryers that were instrumental to their production line. Over time, the aging dryers became unreliable with backorders on service parts discontinued. As a result, site engineers were experimenting with ad hoc fixes, putting operational integrity and production schedules at risk. Something needed to be done.
The customer reached out to our team, along with several other compressed air dryer manufacturers, and we all offered our best dryer solutions. As the project progressed though, the requirements changed. The project scope now called for a dryer that used a refrigerant in compliance with the Paris Accord, a set of global standards that invited industrialized nations to implement strategies for long-term, low-greenhouse gas emissions.
We agreed this was a smart change of scope. Although refrigerants are a commonly used gas in manufacturing, certain ones can harm the ozone if they escape into the atmosphere. That's because when refrigerants are compressed and expand, they drop significantly in temperature. Within a refrigerated air dryer, this cold gas then chills the warm, saturated compressed air coming into the dryer, effectively removing its moisture. This dry air is then filtered, removing extraneous contaminants, essentially 'cleaning' the air. This dry air is then ready for use.
Finding Answers
When our competitors learned of the new request, almost all of them walked away. But we pride ourselves on being solution makers. Our dehydration engineers accepted the challenge and began innovating to develop the best compressed air dryer using an alternate refrigerant to meet the new greenhouse emissions standards.
At our Innovation Center in Ocala, Fla., we found that by changing a few components, as well as the refrigerant utilized in one of our existing dryer designs, we could meet the company's request. The result: a proven product that efficiently dried the air to the customer's specified requirements AND met the new sustainability goals.
The End Result
The company said they liked our tailored solution. And we did it much faster than industry expectations. Our dryer has now been installed and it's both highly reliable and environmentally sustainable.
When faced with complex challenges, solution makers don't walk away from the table. We pull up a seat and scoot in. Collectively delivering for a global company that supports valued communities worldwide is more than what we do.
It's who we are.