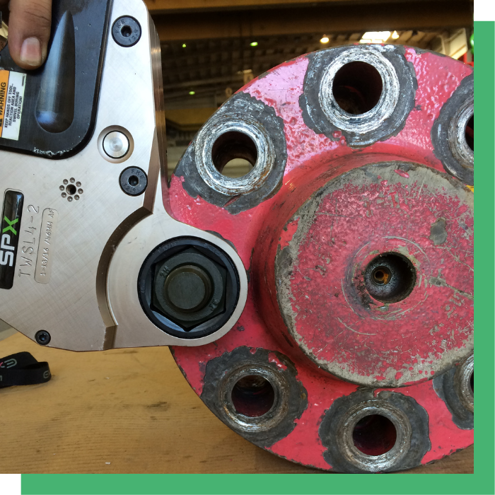 When a prominent fracking company in West Texas called to test our hydraulic torque wrench, we didn't hesitate to answer. We knew our Bolting solutions could handle the tight fit fracking valve applications and the task at hand. We also knew our solution makers could help solve their complex flange challenges. It's what we do. All day, every day. And this company was about to experience this firsthand.
Our sales rep had been in frequent communication with their field operations team, often offering our Bolting System hydraulic torque wrenches to support their bolting work. They'd been using a few competitor's products to little avail. Given the load rating, none of the competitor wrenches could support the foot pound requirements nor fit within the tight bolt pattern on the frac stack. That's when they called us.
In the oil drilling and fracking industry, slimline torque wrenches are important to ensuring all bolts are thoroughly tightened to the proper load on all flanges. A hydraulic torque wrench must be able to support the workload while also remaining thin enough to fit within the various flanges on the stack. Most companies limit the amount of metal that they use in their slimline torque wrenches to account for this. Little did we know when they called, this customer was conducting a test of several hydraulic torque wrenches including our SPX FLOW Bolting Systems slimline wrench, to find the right long-term solution.
The result: SPX FLOW's slimline torque wrench was the only one that didn't break during testing. We'd passed with flying colors.
This is the result of hard work by our Bolting Systems team. While other companies prioritized using less metal, we'd prioritized the engineering of the wrench itself with an emphasis on stress points. So, while the amount of metal was lessened across all the wrenches, we preserved torque capability by identifying the specific areas along the wrench that would need extra support under the load requirements of the flanges on the frac stack. They found our tool was able to operate at the full torque range of their application.
This new customer shared their positive feedback on the wrench, praising its role in lessening downtime, a critical element in the world of oil and gas. According to our channel partner rep at Klinger GPI, "the end user has let me know they will standardize their hydraulic torque wrenches to Bolting Systems slimline torque wrenches."
We call that a win in our book.
There's nothing like passing a test you didn't know you were taking. That's the true measure of mastery.
We proudly produce the last wrench standing.