Developing custom manufacturing equipment requires a wealth of specific industry-based analysis, knowledge and an environment to acutely test product efficiency. SPX FLOW draws on 100 years of experience in the research and development of manufacturing machinery to design products to fit the needs of a manufacturing process. The multiple SPX FLOW research and development centers are each centered on detailed toolset and industry. Every testing center is managed by a team of industry-defining technologists, all specializing within their specific field of process and product engineering, to best meet the custom design needs of our customers.
Customized manufacturing equipment and customized process solutions are a fundamental part of the manufacturing industry. There is a distanced amount of variance in the needs, competencies and standards within a single operating plant's product line. On a large scale, to fit the needs of any production facility, a level of customized manufacturing equipment is necessary. In terms of in-industry competition, the customization of production equipment is a critical part of defining the core competency of a plant. SPX FLOW develops manufacturing equipment around the core competencies of the customer, to develop the best possible product efficiently.
Custom designing manufacturing equipment requires a number of knowledgeable staff, precisely measured tools and a space built for detailed testing.  SPX FLOW research and development centers are optimized to design, test and refine a range of manufacturing equipment. SPX FLOW research and development centers placed across the world, all focus on separate industry toolsets singularly to concentrate on specific product innovations. 
The industry-defining engineering teams of SPX FLOW are deeply versed in their own field of expertise. This knowledge base of engineers allows SPX FLOW to offer custom design processes and individual industrial products. The high level of variability inherent in constructing customized products would create issues in optimizing and refining newly designed products. However, SPX FLOW engineers utilize a number of SPX FLOW research and development centers to test products within accurate process conditions. The SPX FLOW network of research and development centers spans worldwide, collectively assisting a significant range of industries.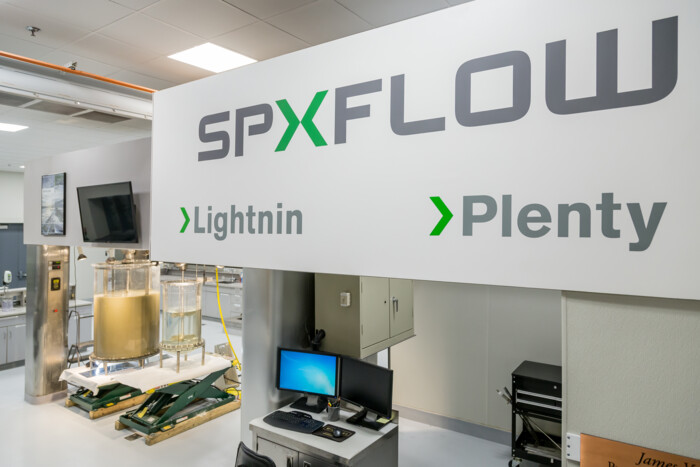 The Lightnin mixer research and development center utilizes the technology of Lightnin and Plenty mixers to innovate in the industrial fluid mixing industry. The Lightnin global design center implements standards of optimization to ensure a calibrated product. The mixing research and development center utilizes highly precise measurements to perfect the mixing capabilities of customized mixing products. This standard of careful measurements was developed by the center's research and application teams, who are fully dedicated to the development and refinement of bleeding-edge mixing technology.
The SPX FLOW research and design center in Delavan, WI USA is equipped with advanced testing capabilities and performance validation resources to support sanitary process and system components.  The Delavan campus is extremely versatile with products being engineered, manufactured, and tested alongside the research and development lab, allowing for real time analysis and validation of conceptual designs and general application suitability.  This flexible configuration enables rapid prototyping and quick confirmation of product performance and durability.
The R&D center is extremely versatile with the capacity to generate 3D and CFD (Computational Fluid Dynamics) theoretical models, and test a wide spectrum of fluid characteristics based on customer samples.  This allows SPX FLOW to prototype and quickly produce process solutions that withstand challenging application requirements.  Utilizing CFD analysis helps to select and adapt SPX FLOW technologies to customer required flow and heat transfer rates.   By using a combination of its engineering and manufacturing expertise alongside its robust laboratory capabilities, SPX FLOW can provide time tested process solutions to help you solve your toughest processing challenges.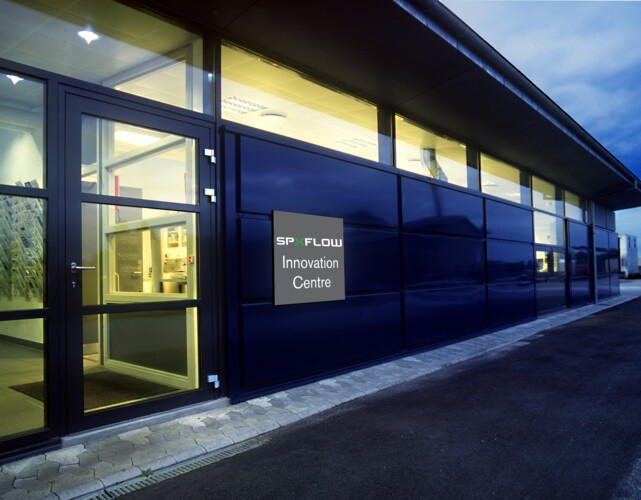 The SPX FLOW Innovation Center in Silkeborg, Denmark, focuses specifically on designing innovative systems for the food and beverage industry.  The process engineers of the Silkeborg Innovation center are a unique resource for process refinement, product development and manufacturing problem-solving. With this SPX FLOW Innovation Center hosting a broad range of capabilities, the center's staff are intricately knowledgeable on the minute details of food and beverage manufacturing processes.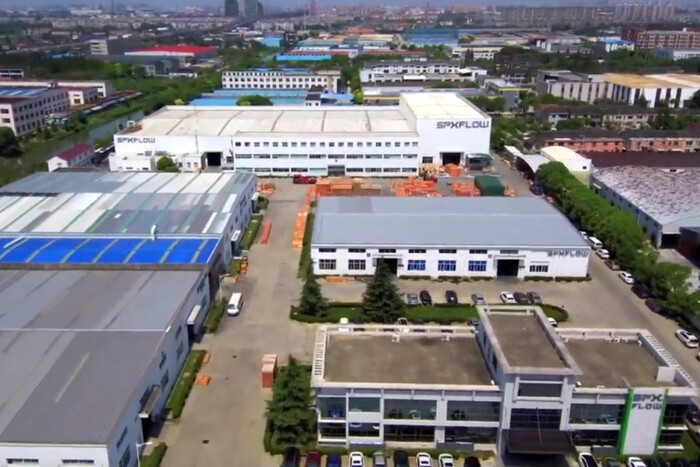 The Shanghai, China Innovation Center is based within a larger manufacturing campus that provides several services outside of the Innovation Centers research and development. Due to being positioned within a multifaced manufacturing campus, SPX FLOW engineers design, cast and build equipment in the plant itself. This process allows for a higher level of influence in the development and implementation of customized products.
The French National Dairy School host the SPX FLOW Mamirolle, France Innovation Center. Specializing in the production of cheese and fresh fermented dairy products, the center contains two separate pilot plants for each product. This structure allows for specialized research and testing to be conducted between products.