Consistator® LD 134 - Scraped Surface Heat Exchangers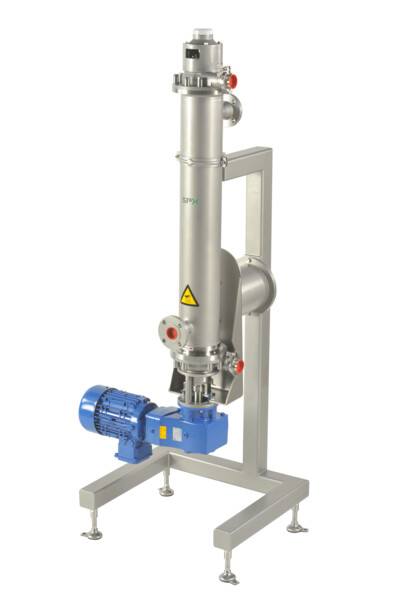 Product Type:
Heat Exchangers / Scraped Surface Heat Exchangers
The Gerstenberg Schröder Consistator® LD 134 is a multi-flexible low-pressure scraped surface heat exchanger designed to heat or cool medium to high viscosity products with or without particles within the Processed Food industry. It provides high performance, minimal downtime and easy maintenance.
The Consistator® LD 134 is designed to meet market demand for high quality products as well as providing low cost production. With the Consistator® LD 134 you can produce everything from caramel, chocolate products, cream fillings and jams to marinades, sauces, and mayonnaise, in addition to a variety of other products that require thermal processing.
The Consistator® LD 134 is a vertical/horizontal scraped surface heat exchanger with an interchangeable tube that can be customized depending on the product, particle size, hygienic requirements, space constraints and the heating/cooling medium. The tube is mounted in an insulated and completely sealed multi-purpose jacket of stainless steel, which can operate with a choice of media including hot water, steam, glycol, brine, or cold water depending on the application. Different sizes of rotors enable processing of products with particles and solids.

The Consistator® LD 134 series scraped surface heat exchanger comes in two basic configurations:

Horizontal
Rigid stainless steel frame
Easily extendable up to 6 cylinders
Vertical
Rotatable cylinder for easy maintenance
Low space requirements up to 4 cylinders in a frame
Function and Principles of Operation
The product to be heated/cooled is pumped into the tube where a scraper rotor system continuously scrapes the product off the inner tube wall which provides an excellent heat transfer (high K-values).

The Consistator® LD 134 is based on a multi-flexible platform and designed to operate under harsh conditions where other heat exchanger technologies can fail or cannot sustain operational efficiency over a longer period. Additionally, our solutions comply with the full spectrum of certification demands.

Advantages
Multi-purpose machine for a wide range of product qualities and consistencies.
Hygienic design suitable for the food industry. Product contacting parts are made in stainless steel AISI 316.
Customization, multiple options.
Vertical & horizontal configurations.
The cylinders are manufactured in a special thin-walled material for optimal heat transfer (high K-values). These can be supplied in different materials depending on the application.
Various rotor sizes depending on the application requirements which ensure optimal heat transfer or an adjustment to the particle size.
Heatable rotor to avoid product build-up when cooling crystallizing products.
Maximum time of trouble-free operation provided by a selection of a high-tech, double mechanical, cartridge type seals as well as wear-resistant scraper blade material.
Cartridge design for fast and easy maintenance
Off-the-shelf SPX FLOW SIC/SIC sealing surfaces widely available
Aseptic production option.
Flushable double mechanical seals for aseptic design or solidifying or abrasive product particles i.e. sugar
Clip-on insulation for easy mounting/dismounting
Short CIP/SIP time
Easy maintenance
Small footprint
Low downtime
Easily extendable with up to six units in a frame (horizontal version only)
Fast delivery and installation