Flex-Mix Liquiverter Series - Bottom Mixers
Product Type:
Mixers And Blenders / Batch Mixers
Manual unit designed for batch mixing, inline mixing over one or more hydration tanks.
We Are Here to Help
Find your local representatives within your region for product inquiries.
Where to Buy
Simple, versatile, effective
The Flex-Mix Liquiverter offers a flexible and reliable solution for high quality mixing, dispersion, recombination and reestablishment of soluble products into low to medium viscosity fluids. It provides a large dissolution capacity due to its free vortex and square shape and is a popular choice for use in reconstitution of dairy products, manufacturing of fine foods, emulsions, preparation of starch and hydrocolloid solutions.
A cost-effective mixing solution offering high performance, high shear mixing for a wide variety of applications
The Flex-Mix Liquiverter offers exceptional value with a simple, yet versatile, mixing solution for batch applications up to 3,000 liters or continuous production up to 20,000 l/h. A high shear option for semi and continuous mixing applications ensures all product externally or internally recirculated will be exposed to high shear for enhanced mixing results. Maintenance is straightforward and helps optimize the total cost of ownership while reliable operation is enhanced through the use of a direct drive which reduces wear on spare parts.
Efficient mixing made simple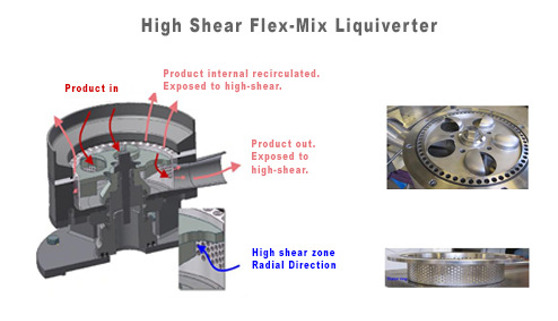 Simple, hygienic design ensures reliable operation, maximized uptime, reduced operating costs and enhanced cleanability
The mixer is easy to maintain as it is directly coupled to the motor and needs no belts or gearboxes that can wear during operation
Exceptionally simple operation with little training required
Low CAPEX solution
Large dissolution capacity increases mixing efficiency
High shear option results in smaller particle sizes and smoother emulsions
Fully drainable tank helps improve hygiene and minimize waste
Flushed double mechanical shaft seal with choice of materials to suit application
Flexible options
---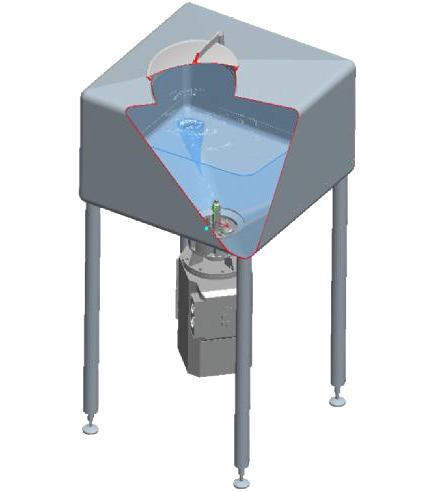 The mixing principle in the Liquiverter is based on vortex-driven blending. Its bottom-mounted impeller generates an axial flow within its square-shaped mixing tank, which ensures no forced rotation of liquids. Powder or particles are added from the top of the tank, which are carried by the liquid in the tank towards the vortex center. The free vortex sucks liquid downwards, collapsing it around the powder and forcing it towards the mixer head at the base. The corners of the tank act as baffles to improve power transfer from the mixer, creating a dynamic process response and creating an axial flow pattern. This provides uniformity in the fluid and better mixing control of vortex and, in most applications, removes the need for additional baffles, improving cleanability of the unit and enhancing food safety.
The Flex-Mix Liquiverter is a manual unit which can be integrated into an automated production line. It can be used for batch mixing, inline mixing over one or more hydration tanks, or continuous mixing. The high shear forces and turbulence throughout the mixing tank ensure effective and homogenous mixing for excellent final product results.
Mixing for food quality
Mixing, dispersion and homogenization are vital processes for the production of many dairy, food and beverage products. The quality of these processes has a direct impact on the final product characteristics and quality as well as affecting operational costs and processing times. Through its APV brand, SPX FLOW offers a full range of mixing and homogenizing technology for the dairy, food and beverage industries based on experience that dates back over 100 years. 
Common applications
Soya milk
Skim milk 35%, 40%, 50% total solids
Chocolate milk
Recombined milk
Juices
Juice concentrates
Dessert cream
Soups
Almond paste
Cacao
Yogurt
Mayonnaise
Ice cream
Oat slurry
SCM
Tomato concentrate
Case Study - Mixing Chocolate Powder with the Flex-Mix Liquiverter
SPX FLOW was recently invited to discuss plate heat exchangers for a customer's pudding process. During the meeting, the customer also mentioned a need to mix chocolate powder as one of the key ingredients.
A competitor's rotor-stator mixer for the application was initially selected by the customer however, by using our strong application expertise and product knowledge, we explained that chocolate powder was challenging to mix and would require a greater shear rate in order to achieve the desired result. The R&D personnel present in the meeting had experienced this issue and agreed with SPX FLOW's assessment.
In addition to creating high shear, the SPX FLOW Liquiverter also removed the need for the customer to invest in additional tanks which resulted in further cost saving benefits. The customer decided to rent a smaller Liquiverter trial unit and after two months was extremely happy with the results.
Application Details
Mix to produce pudding and different types of milk-based desserts. Product mixed and heated in the Liquiverter. Heating accomplished by circulating product through a Plate Heat Exchanger followed by holding and eventually cooling down to a certain temperature for packing. When one Liquiverter is in packing mode, another is in production mode and flip flop.
The customer ordered 2 Liquiverters with a 2,000 Liter capacity as a result of this successful trial
Brochures
Success Stories
Flex-Mix Liquiverter Success Story - Mixing Chocolate Pudding - DN3
‖ US