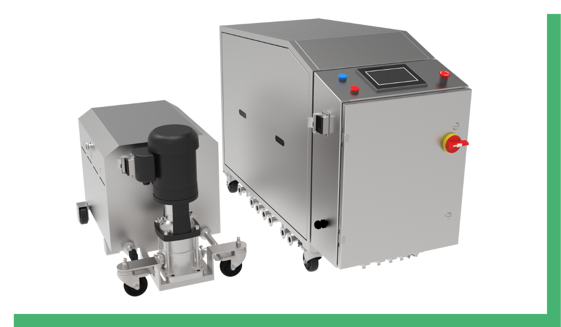 Imagine you're at Niagara Falls watching millions of gallons of water plunge over the steep cliff.
Out of curiosity, you start counting.
One thousand one … one thousand two … one thousand …
All told, that's enough time for about 2 million gallons to cascade over Horseshoe Falls, one of the three marine marvels that make up Niagara Falls. That's also how much water our new homogenizer technology can help your company save each year.
And that's just the savings for one homogenizer over one year.
Think of how many gallons you could save over the lifetime of all your plant's homogenizers?
It's incredible to fathom.
We do this with ground-breaking technology called the APV Homogenizer Water Recycling System (HWRS). It's designed to recycle up to 97% of the runoff water used in homogenizers.
Here's how:
Traditionally, a continual flow of water gets supplied to homogenizers to cool the transmission oil and lubricate the plungers. This HWRS technology now recaptures that water, cleans and chills it, then returns it into the homogenizer.
It virtually eliminates the need for homogenizers to use any new water.
It can be easily installed or retrofitted to both new and existing homogenizers made by any manufacturer.
And it's a crucial initiative that comes as the cost of water rises, and supply shrinks, making sustainability increasingly important.
We pioneered homogenizers in the late 1800s through our APV Rannie and Gaulin brands. The HWRS marks another milestone.
We hold more than 850 patents worldwide, and approximately 44% of the patent families are related to sustainability and clean technology.
We save water for customers. We save it in our own facilities. And we save a spot at the head table for the people who made this happen. 
Our Solution Makers.
Explore the benefits of the Homogenizer Water Recycling System.