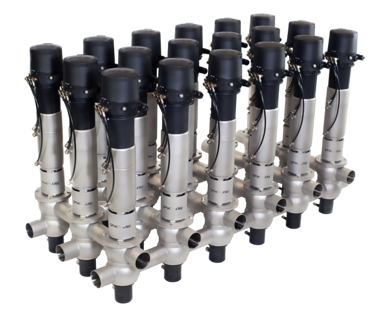 How do you like your beer? Lagers, your favorite? Ale or stout? It's a fact—consumers love their beer.
Dating back 12,000 years, the impact of these bubbly beverages is felt today through the recent surge of craft breweries and "mom and pop" establishments. And while this helps local economies, industry giants are striving to keep up with consumer demand too. These beverage producers have had their set of challenges balancing the demand to make beer with smooth floor operations. As the pressure to increase capacity has grown so has unexpected downtime caused by leaks and scrapped batches. As solution makers, we can't have this.
A Complex Challenge
Recently, a leading brewery needed help optimizing its processing lines. To be precise, a valve that could meet rigorous production demands, but also minimize the effects of water hammering, ease maintenance and safety concerns while providing production efficiency. They'd set sustainability goals also.
It was such a tall ask that a range of competitor valves were kept on-site, and all failed to meet every requirement.
Our solution makers recommended the APV D4 mix proof valve among other vital beer brew supplies.
| | |
| --- | --- |
| Brewery Challenges Included: | D4 Mix Proof Valve Solution: |
| Water Hammering | Balanced open and close positions encourage flow in any direction without water slamming |
| Ease of Maintenance | Dynamic jacking screw design eliminates the need to apply live air during removal and installation, standardized seal sizes. Light-weight design is up to 40% less than competitor offerings |
| Production Efficiency | The slim stainless actuator, which is fully enclosed, prevents fluid ingress and the open yoke design reduces heat transfer from the product zone into the actuator |
| Sustainability | The internal geometry and fabrication of this valve is designed to optimize the CIP fluid rate, lessening chemical/waste disposal costs and total cost of ownership |
| Safety | Built-in guards protect personnel during actuation, eliminating potential pinch hazards |
In Their Own Words
While we presented these benefits upfront; we wanted this brewery customer to experience these valves firsthand putting them to use on their production line. They did just that, here's what they saw:
The mix-proof valve design resisted the hydraulic shock created by pressure spikes and high flow velocities and created more freedom within the process, a benefit given long-term plans for process expansion.
Competitor's valves led to false and nuisance alarms due to the external switches and cabling that were susceptible to snags and natural vibrations during operation. The D4's protected design was found to reduce potential false alarms.
Enhanced sanitary measures like the D4 leakage chamber eliminated buildup / blockage that can compromise the process fluid's integrity. The leakage chamber flush option also kept the vent area clean.
As solution makers, we innovate for tomorrow, today. Considering these takeaways, we're proud these valves are solving the complex challenges of one the world's largest breweries. Helping improve sustainability, minimize water hammering, reduce clean-in-place (CIP) cycles and ease maintenance across beer beverage manufacturing.