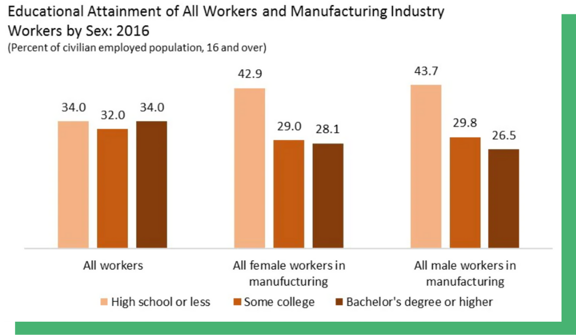 "There are two powers in the world; one is the sword, and the other is the pen. There is a third power stronger than both, that of women," —Malala Yousafzai, Pakistani activist and Nobel Peace Prize laureate.
March 8th specifically marks International Women's Day as the global date of recognition with origins as early as 1911. Within our world of manufacturing, women have been present since the 1920s, commemorating over 100 years of influence on industry.
The manufacturing industry has come a long way since the assembly lines of the 1910s. From women's voting rights to process automation, progress has come in many forms. As a more inclusive and dynamic industry, manufacturing offers marketing professionals, operations leaders, finance personnel and plant site leaders career paths that women are rapidly filling across the industry. "Still, while women make up about 47% of the total workforce, they only make up about 30% percent of the 15.8 million people employed in manufacturing industries, and only 1 in 4 manufacturing leaders are women," according to the U.S. Department of Commerce.
This means that while the paths are there, opportunities may not be globally. This is often due to lack of visible career paths or insufficient support internally for women. For this reason, each of us plays a role in promoting our industry for the better. Helping round out this story.
Flipping the Script
Considering these findings, what can we do as manufacturers?
At SPX FLOW, we're taking initiatives to better our internal and external impact through several empowerment and recruitment initiatives.
Globally:
Rotational Program: Our Early Careers program strives to onboard ethnically and gender-diverse rotational cohorts that span our global footprint. The two-year immersion experience helps recent graduates gain value-adding manufacturing experience through hands-on training and attentive mentorship.


APAC:
We For She Conference: We're encouraging our female leaders across APAC to take part in events like the We for She Conference, an event recognizing Shanghai's top female business executives and senior diplomats as attendees share inspiring and practical advice with fellow women leaders in innovation and technology.


EMEA:
Northern Power Women is a female-led network in the United Kingdom that several of our leaders support and engage with through conferences, mentoring events and award ceremonies. Several EMEA sites also support programs like, Lean In Manchester, circle meetings established to help individuals in the Manchester area learn, share and grow their career through peer support.


The Americas:
Women in Manufacturing is a U.S. national trade association dedicated to supporting women who have chosen a career in the manufacturing industry. We are a corporate member, granting all SPX FLOW team members free membership and privileges. As of January 2022, WiM has an active network of 30 chapters, encouraging resources like access to virtual learnings and courses on emotional intelligence, managing change and more.
Internally, we're offering employees spaces like EMPOWER, an employee resource group that cultivates an inclusive environment, encouraging women to advance their skills and leadership potential through connection, mentorship, collaboration and discussion. For example, the LATAM chapter consists of men and women from Brazil, Chile, Colombia and Mexico who've organized talk groups around breast cancer awareness, STEM opportunities and leadership growth for women.
We've also partnered with SOAR, a diversity consulting agency that's training several of our mid-management female leaders through a nine-month workshop to enhance and broaden their leadership skills in the workplace.
Your Rewrite
We all have a role to play in being the change we wish to see. For SPX FLOW, it's embracing our Culture of Belonging so that women feel supported and valued.
Celebrate with us this month, recognizing that our strengths intersect with our differences and commemorate Women's History Month.