Product Type:
Piggable valves enable you to recover costly products out of product lines.  Once the pig is forced through the line, the remaining product film on the inside of the product line can then be removed with much less CIP fluid which lowers the amount of wastewater, cleaning fluids and cleaning time. They are particularly well suited in processing viscous fluids.
High value, Low life cycle costs:
Pig use enables valuable product recovery
Pig use decreases downtime related to cleaning, and the costs associated with wastewater and CIP fluid
Reduced inventory costs with same seal kit used on multiple size ranges such as one kit for 1.5" - 3.0" sizes
Low air consumption and air supply requirements
Leak drain with clamp connection for CIP fluid collection
Long housing ports ease manifold building

Reliable performance:
Design based on the proven D4SL model
Long stroke for gentle product handling and low flow resistance
Balanced design of lower shafts helps to prevent hydraulic blocking and enables flexible flow direction without slamming
Heavy-duty bolted flange connection provides secure, controlled assembly/disassembly of valve insert
No compressed air needed for removal and servicing
Range of control units and bus communication for automated operation

Cleanability:
Designed to the latest global hygienic standards
Extensive cleaning of product contact seals via seat lifting of upper and lower shaft
Cavity spray cleaning as standard
Radial seal design provides minimal switching leakage
External flushing of outside area of the lower shaft below the shaft seal
How do double seat piggable valves work?
---
Double seat piggable valves are used to safely process two different fluids efficiently (typically product and CIP) through the valve simultaneously.  The DP4 mixproof design has two independently operating seats that separate the upper and lower pipeline when the valve is in the fail safe closed position.  The atmospheric vent cavity between the seats creates a path to exit through the leakage chamber should the seals fail, as well as a drain for CIP solution during seat cleaning. External CIP spray flush connections are included to provide enhanced cleaning of the leakage vent cavity as well as the lower shaft, while the valve is closed or open during production.
Product in Blue: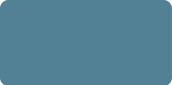 CIP Solution in Yellow: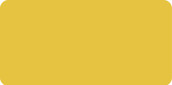 Valve Closed: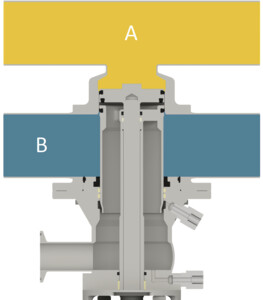 The lower and upper valve shafts are in closed position and safely separate the different liquids A and B. The leakage chamber L, which is situated between the two valve shafts, provides for a free and depressurized discharge to the drain housing. The lower valve shaft is balanced and, thereby, protected against pressure hammer.
Valve Open: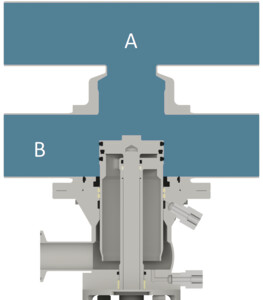 The middle seal in the upper valve shaft is pressed against the lower valve shaft by control of the actuator. First, the leakage chamber L is closed against the product chamber. Then the two valve shafts move downwards into the open position. The connection between pipelines A and B is established.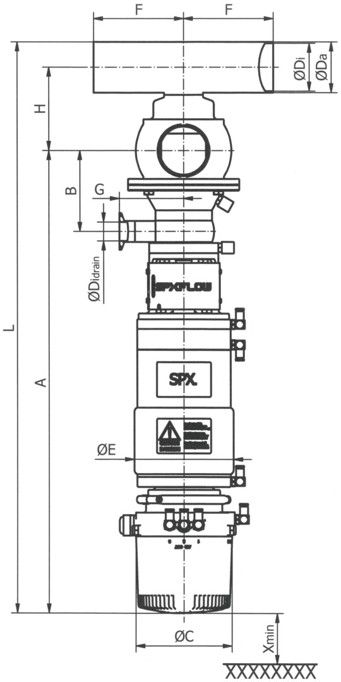 Dimensions in mm

inst.

dim.

weights in kg

with VPI

DN

A1

B

Ø C

Ø Da

Ø Di

Ø Di drain

Ø E

F

G

H

L

X min.

40

602,6

97

134

41

38

26

138,2

125

89,5

93

716,1

100

21,2

50

620,6

103

134

53

50

26

138,2

125

89,5

101,5

748,6

100

21,5

65

638,6

111

134

70

66

26

138,2

125

89,5

114,5

788,1

100

22,5

80

706,1

122,5

134

85

81

38

192,2

142,5

146,5

135

883,6

150

39,7

100

715,6

132

134

104

100

38

192,2

142,5

146,5

149,5

917,1

150

39,9

Inch

 

1,5"

601

95,4

134

38,1

34,9

26

138,2

125

89,5

94,1

714,2

100

21,2

2"

619,4

101,8

134

50,8

47,6

26

138,2

125

89,5

102,6

747,4

100

21,5

2,5"

635,8

108,15

134

63,5

60,3

26

138,2

125

89,5

109,4

776,9

100

22,1

3"

642,1

114,45

134

76,1

72,9

26

138,2

125

89,5

118,5

798,6

100

22,3

4"

714,4

130,8

134

101,6

97,6

38

192,2

142,5

146,5

152

917,2

150

40