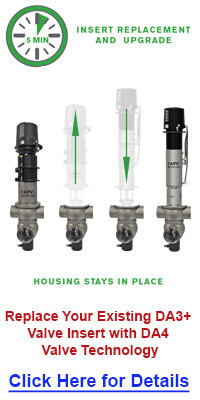 The next generation of mixproof valve technology is the result of continued development from both APV and Waukesha Cherry-Burrell process technologies. Used for the reliable separation of dissimilar fluids, the D4 Series helps fulfill todays customer demands for production flexibility, increased productivity, rapid return on investment (ROI), and improved product quality across the Food & Beverage, Dairy, Personal Care and Brewing process industries.
High value, Low life cycle costs:
Tiered model range helps to increase ROI and align with customer budgets
All In standard features provide exceptional value
Reduced inventory costs with same seal kit used on multiple size ranges: DN40-DN65 (1.5-3.0) and DN80-DN100 (4.0)
Reduced CIP losses improve cost savings
Low air consumption and air supply requirements
Long housing ports ease manifold building
Integrated shaft seal flush reduces need for external piping
Replacement insert available to easily upgrade existing installations
Reliable Performance
Fully balanced design helps to prevent hydraulic blocking, withstand pressure spikes, and enables flexible flow direction without slamming
Light overall weight helps support handling without lifting tools
Slim stainless actuator is fully enclosed to prevent fluid ingress
Range of control units and bus communication for automated operation
No compressed air needed for removal and servicing
Cleanability
Designed to the latest hygienic standards
Standard cavity spray cleaning
Extensive cleaning of product contact seals
Benefits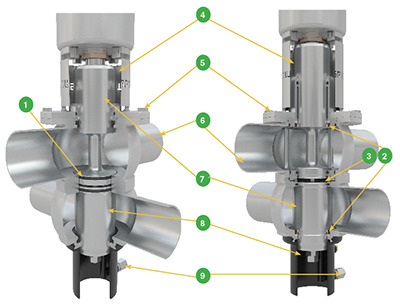 Valve Type
 
Feature
Benefit
D4
1
Radial seal design for reduced losses of product fluids during switching
- Product cost savings

-Cleaner operating environment
Choice of seat lifting (SL) or non-seat lifting (NSL) actuator
Modular design to fit a wide range of cleanability and functionality needs
Hazardous rated options available (ATEX Zone 1 or 2)
Provides safe operation in critical applications
DA4
2
Integrated upper and lower shaft seal and balancer flushing
-Extensive cleaning of product contact surfaces

-Helps to reduce external flush piping
3
Metal orficies control CIP flow during seat lift
Reduces chemical and water loss consumption
Replacement insert fits into existing DA3+ housing
Easy upgrade to next generation with improved features
D4 and DA4
4
Open yoke design
-Reduces heat transfer from product zone into actuator

- Provides visual leak detection of damaged shaft seals

- Safety guard provided to reduce pinch points
5
Bolted flange connection for housing insert
- Heavy-duty, secure connection

- Reliable and controlled assembly and disassembly of valve insert
6
Long ports to ease manifold building
Helps to reduce spool pieces and welds to ease manifold building
Only two seal kit sizes used on entire range: DN40-DN65 (1.5" - 3.0") and DN80-DN100(4.0")
Reduces inventory and maintenance costs
Fully integrated sensors to detect all critical positions
- No external wires exposed to wash-down and mishandling

- Extra security to monitor seat positions during cleaning
No compressed air required for servicing
Easy and efficient maintenance
7
Balanced upper and lower shafts (as standard)
- No hydraulic blocking

- Resistant against pressure spikes

- Flexibility in either flow direction through the valve (top-to-bottom or bottom-to-top) without water hammering
Reduced cleaning fluid losses to drain
- Chemical and water savings

- Cleaner environment due to fewer chemicals and fluids spilling to the floor
8
Large separation cavity drain port
Less product risk and prevention of pressure build-up that could cause cross-contamination
9
Flush cavity spray fixed connection (as standard)
- Enhanced cleaning

- Removal of residual media in separation cavity when full CIP is not readily available

- Hard-piped flush can be used without need to be removed during valve maintenance
Light overall weight
Easier handling for maintenance
---
Double seat mix proof valves are used to efficiently process two different fluids (typically product and CIP) through the valve simultaneously. The mix proof design has two seats which isolate the upper and lower pipe lines when the valve is in the fail-safe closed position. The atmospheric vent cavity in between the seats creates a path for any leakage should the seals fail as well as a drain for CIP solution during seat cleaning. An external CIP spray flush is included to provide enhanced cleaning of the leakage and vent cavity while the valve is closed or open during production.
| | |
| --- | --- |
| Valve Closed | Optional Lower Seat Clean |
| Valve Open | Optional Upper Seat Clean |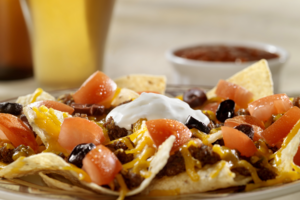 Food and Beverage
Soups & Sauces
Flavorings & Ingredients
Dressings, Vinegars
Soft/Fruit & Vegetable Drinks
Brewery, Wort, Wine, Distillery
Pet Food
Fats & Oils, Animal Oils
Liquid Sugar
Cereals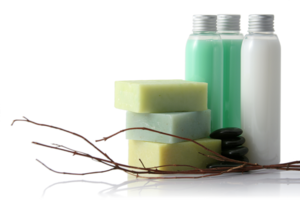 Personal Care and Pharmaceutical
Fluid Medicines
Extracts
Face Creams & Lotions
Perfumes
Soaps
High Purity Water
Nutritional Supplements
Hair Styling Gels & Liquids
Dyes & Alcohols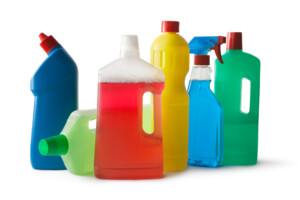 Chemical
Solvents, Paints
Adhesives
Coatings
Oils & Lubricants
Detergents
Emulsions
Fuels
D4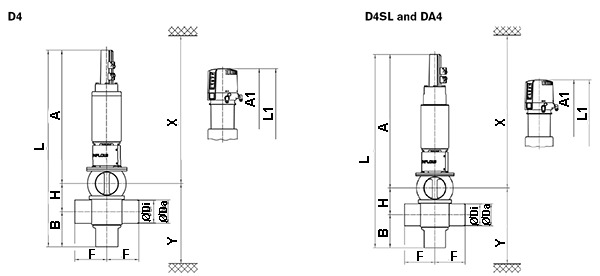 Dimensions mm
A
A1
B

ø

Da

ø

Di
F
H
L
L1
X*
Y*
DN
 
 
 
 
 
 
 
 
 
 
 
40
483
566
120
41
38
125
63
666
749
820
200
50
487
570
126
53
50
125
75
688
771
830
218
65
495
578
134
70
66
125
91
720
803
840
242
80
583
666
146
85
81
142.5
106
835
918
930
274
100
593
676
156
104
100
142.5
125
874
957
940
303
125
677
760
179
129
125
150
150
1006
1089
1030
350
150
725
793
194
154
150
150
175
1094
1162
1075
390
INCH
 
 
 
 
 
 
 
 
 
 
 
1.5
485
568
119
38.1
34.8
125
63
667
750
820
197
2.0
488
571
125
50.8
47.6
125
75
688
771
830
216
2.5
492
575
131
63.5
60.3
125
85.3
708.3
791.3
840
233
3.0
498
581
137
76.1
72.9
125
97.9
732.9
815.9
850
251
4.0
594
677
155
101.6
97.6
142.5
125
874
957
840
301
6.0
726
795
193
152.4
147.3
149.8
175
1095
1161
1080
391
*Minimum installation and valve insert removal dimensions
D4 SL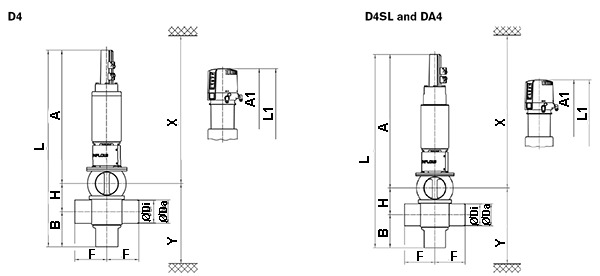 Dimensions mm
A
A1
B

ø

Da

ø

Di
F
H
L
L1
X*
Y*
DN
 
 
 
 
 
 
 
 
 
 
 
40
524
607
120
41
38
125
63
707
790
870
200
50
528
611
126
53
50
125
75
729
812
880
218
65
536
619
134
70
66
125
91
761
844
890
242
80
618
701
146
85
81
142.5
106
870
953
980
274
100
628
711
156
104
100
142.5
125
909
992
990
303
125
677
760
179
129
125
150
150
1006
1089
1030
350
150
725
793
194
154
150
150
175
1094
1162
1075
390
INCH
 
 
 
 
 
 
 
 
 
 
 
1.5
526
609
119
38.1
34.8
125
63
708
791
870
197
2.0
529
612
125
50.8
47.6
125
75
729
812
880
216
2.5
534
617
131
63.5
60.3
125
85.3
750.3
833.3
900
233
3.0
540
623
137
76.1
72.9
125
97.9
774.9
857.9
900
251
4.0
629
712
155
101.6
97.6
142.5
125
909
992
990
301
6.0
726
795
193
152.4
147.3
150
175
1095
1161
1080
391
*Minimum installation and valve insert removal dimensions
DA4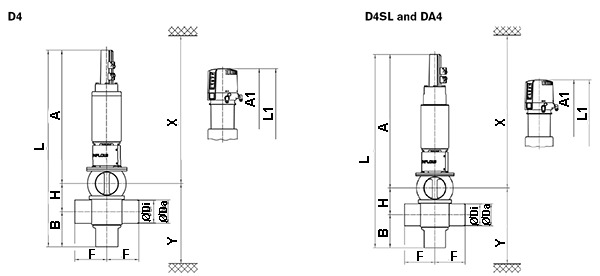 Dimensions mm
A
A1
B

ø

Di

ø

Da
F
H
L
L1
X*
Y*
DN
 
 
 
 
 
 
 
 
 
 
 
40
589
672
120
38
41
125
63
772
855
930
200
50
593
676
126
50
53
125
75
794
877
940
218
65
601
684
134
66
70
125
91
826
909
950
242
80
678
761
146
81
85
142.5
106
930
1013
1030
274
100
688
771
156
100
104
142.5
125
969
1052
1040
303
INCH
 
 
 
 
 
 
 
 
 
 
 
1.5
588
671
119
34.8
38.1
125
63
770
853
930
197
2.0
594
677
125
47.6
50.8
125
75
794
877
940
216
2.5
598
681
131
60.3
63.5
125
85.3
814.3
897.3
950
233
3.0
604
687
137
72.9
76.1
125
97.9
838.9
921.9
960
251
4.0
689
772
155
97.6
101.6
142.5
125
969
1052
1050
301
*Minimum installation and valve insert removal dimensions
D4 Mixproof Valve Maintenance - US
D4 Series Hygienic Double Seat Mixproof Valves
SPXFLOW DA4 Mixproof Valve Maintenance EN
Mixproof Valve Manifold Demonstration
WCB Valve D4 Mixproof Animation
WCB Valve D4 Mixproof Maintenance
WCB Valve DA4 Mixproof Maintenance
DA3 Valve Series to DA4 Retrofit
CU4plus D4 V2 ASi Series - Teach Routine