Product Type:
The DELTA butterfly valves from SPX FLOW are stop valves which can be actuated either manually or pneumatically. The valves are very robust and reliable and the space saving design makes them ideal for nearly all applications - a flexible valve which is very easy to install and to service.
Advantages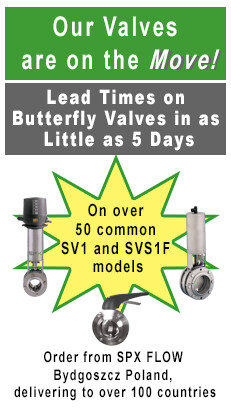 Product passages are smooth and the special seals ensure thorough cleaning.
Unique metallic stop prevents the valve flanges from being tightened too much and protects the valve seal from mechanical over-stress thus improving seal lifetime.
One actuator covers all diameters from 1″ (25 mm) - 4″ (100 mm).
Slide bearings on the pivots of the discs increase operating reliability.
Visual indication of open/closed position.
SVS1F intermediate flange design allows simple removal and easy access of valves that are in lengthy or fixed pipelines.
ATEX compliant models
Designs with electro-pneumatic control (flow control) with Bürkert positioner
SV1 valves are available from DN 25 DN 150, 1 4.
SVS1F valves are available from DN 25 to DN 250, 1" – 6" OD, 2"- 6" Sch5
How does an SV / SVS series butterfly valve work ?
---
A butterfly valve is used within a processing line and can be in two states.  The open state allows flow and the closed state shuts-off flow in the line.  The valve opens and closes by turning a disc 90° which can be performed manually or remotely using a pneumatic actuator.  The pneumatic actuator opens the disc by way of compressed air and closes the disc by spring force.