Product Type:
W+ Centrifugal pumps are designed to achieve lifetime cost savings and lower energy consumption.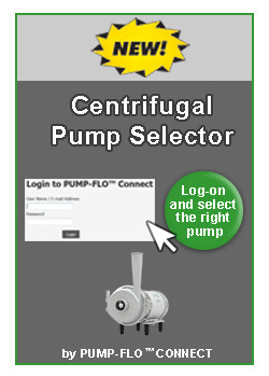 W+ is a comprehensive range of premium sanitary end-suction centrifugal pumps designed with maximum operating benefits and minimal life cycle costs in mind.
Reliable and heavy duty design
Energy efficient
Quiet performance with minimal vibration
Superior shaft seal design
High pressure capability
3-A (optional) 
Designed for CIP (Cleaning In Place) as well as SIP (Sterilizing In Place)
Suitable for wide variety of food, beverage and pharmaceutical products
Wide range of optional features available
Easy and cost effective maintenance
W+ Pharma Model
The APV W+ Pharm model has been specifically developed to meet the stringent requirements of the pharmaceutical and biotech industries with features that provide ultra-hygienic operation.  Equipped with a drain port to enhance cleanability, this model is designed for excellent reliability, gentle product handling, high efficiency and low NPSHr, making it ideal for a wide range of pharmaceutical processes, such as producing water for injection, purified water and de-mineralized water. High efficiency impellers equipped with the patented APV spiral volute on their backplate ensures maximum efficiency, gentle product handling with direct liquid transfer from inlet to outlet.
Model and size: W+22/20, W+35/35, W+35/55, W+50/8, W+55/35
Wet surface finish: Ra<0.5 µm, electrical polish
Shaft seal: SiC/SiC
Elastomer: EPDM, USP class VI, 121°C
Drain port: ½" clamp connection for drain valve (drain valve NOT included)
Pump outlet: Standard (vertical) or turned 45°C left.
---
The W+ pump series is based on a proven hydraulic design that promotes high operational efficiency and reduces noise and vibration levels while maintaining hygienic standards.
Low viscous fluids enter through the center inlet and flow around the impeller which turns at various speeds based on application requirements. The fluid then moves to the outer extents of the impeller vanes by centrifugal force and is directed through the outlet. As with other SPX FLOW centrifugal pumps, impeller and casing designs are optimized to perform more efficiently over a wide range of operating conditions. The casing and port are further designed to maximize performance under low NPSH conditions.
1 - Unique spiral volute positioned in the back plate of the pump ensures a direct transfer of liquid from inlet to outlet
2 - Advanced, high efficiency impeller design
3 - Extended outlets smooth transition to process piping while reducing turbulence and preventing product build-up
4 - Heavy walled pump casing insures that efficiency levels are maintained even at high pressure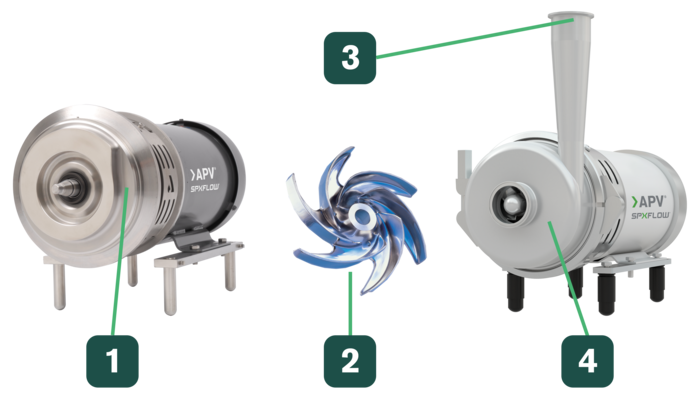 Bakery and Confectionery
Batters
Fats & Oils
Flavorings
Sweeteners
Yeast Slurry
Syrups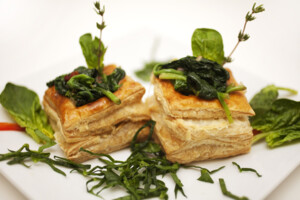 Dairy
Whey
Cream
Milk
Sweetended Condensed
RO/UF Systems
Pharmaceutical/Cosmetics
Emulsions
Extracts
Slurries
Syrups
Dyes
Alcohols
Essential Oils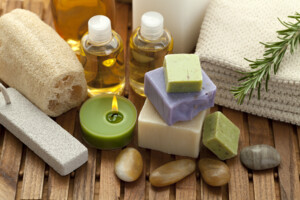 Chemical/Industrial 
Detergents
Dyes
Soap Liquors & Solutions
Ammonium Nitrate
Propyl Alcohol
Potassium Chloride
Sodium Acetate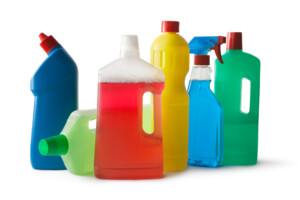 The W+ range consists of 17 standard models with pressure and flow capacities to 15 bar (218 psi), 50 Hz and to 725 m3/h (191,525 gal/h), 50 Hz, and a number of special versions which may be specifically adapted to customer requirements. The W+ pumps are modular so that any pumping job can be done with a perfectly customized W+ pump.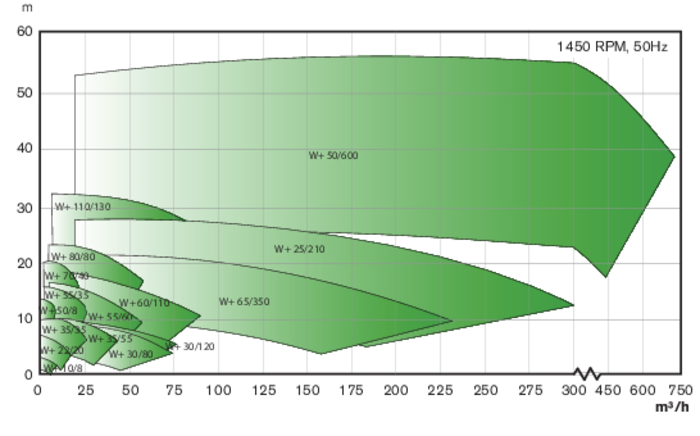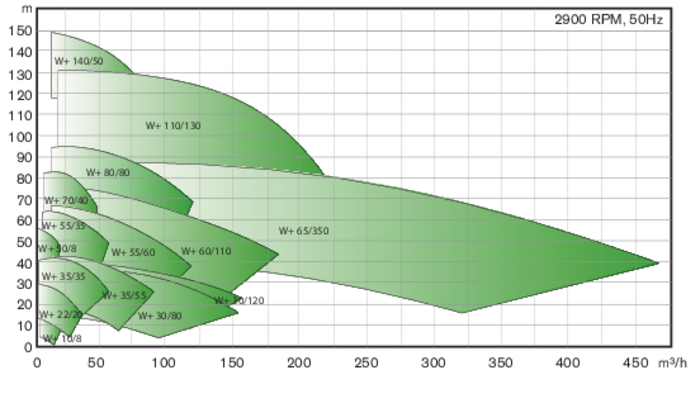 ---
SPX FLOW offers an on-line centrifugal pump selector tool, PUMP-FLO Connect. 

---
Performance Curves
W+ Pumps -  How To Use Performance Curves || PDF
W+ Sanitary Centrifugal Pump Curve Book 50Hz || US || GB
Model W+ 10/8 38mmx25mm 50Hz 2900RPM/60Hz 3500RPM || PDF
Model W+ 22/20 51mmx51mm 50Hz 1450-2900RPM/60Hz 1750-3500RPM ||PDF
Model W+ 22/20 Low Flow Impeller 51mmx51mm 50Hz 1450-2900RPM/60Hz 1750-3500RPM || PDF
Model W+ 25/210 NW150xNW150 50Hz 1450RPM/60Hz 1750RPM || PDF
Model W+ 30/120 101,6mmx76mm 50Hz 1450-2900RPM/60Hz 1750-3500RPM || PDF
Model W+ 30/80 101,6mmx76mm 50Hz 1450-2900RPM/60Hz 1750-3500RPM || PDF
Model W+ 35/35 63,5mmx51mm 50Hz 1450-2900RPM/60Hz 1750-3500RPM || PDF
Model W+ 35/35 Low Flow Impeller 63,5mmx51mm 50Hz 1450-2900RPM/60Hz 1750-3500RPM|| PDF
Model W+ 35/55 76mmx63,5mm 50Hz 1450-2900RPM/60Hz 1750-3500RPM || PDF
Model W+ 50/600 DN250xDN250 50Hz 975-1200RPM/60Hz 1450-1750RPM || PDF
Model W+ 50/8 38mmx25mm 50Hz 1450-2900RPM/60Hz 1750-3500RPM || PDF
Model W+ 55/35 63,5mmx38mm 50Hz 1450-2900RPM/60Hz 1750-3500RPM || PDF
Model W+ 55/60 76mmx51mm 50Hz 1450-2900RPM/60Hz 1750-3500RPM || PDF
Model W+ 60/110 110,6mmx76mm 50Hz 1450-2900RPM and 101,6mmx51mm 60Hz 1750-3500RPM || PDF
Model W+ 65/350 NW150xNW150 50Hz 1450-2900RPM/60Hz 1750-3500RPM || PDF
Model W+ 70/40 63,5mmx38mm 50Hz 1450-2900RPM/60Hz 1750-3500RPM || PDF
Model W+ 80/80 76mmx51mm 50Hz 1450-2900RPM/60Hz 1750-3500RPM || PDF
Model W+ 110/130 101,6mmx76mm 50Hz 1450-2900RPM/60Hz 1750-3500RPM || PDF
Model W+ 140/50 2 stage 76mmx51mm 3 stage 50Hz 2950RPM/60Hz 3500RPM || PDF