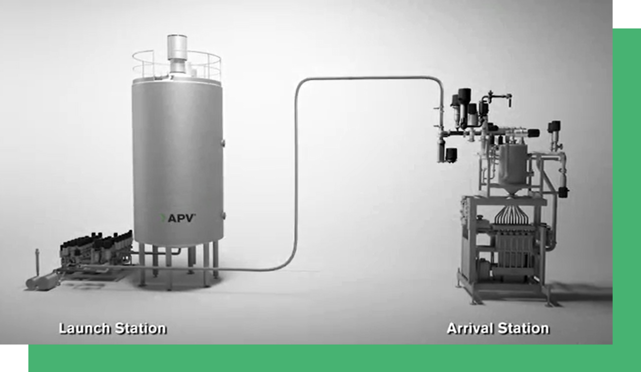 There's a common problem shared by many customers who produce a range of items, from oil to cosmetics, soup and honey:
Viscous product sticks to the sides of process piping.
Ignoring this can waste your valuable product, plus time and money, and it can harm the environment.
To combat this, our APV Rapid Recovery system helps reduce energy, waste handling and chemical usage, while boosting changeover time, accelerating CIP cycles and improving safety.
Here's how it works.
A tight-fitting projectile gets launched through your piping, scraping high-value solids from inside and pushing them forward, returning with the final product. Propelling the projectile is pressure from water (or whichever rinsing fluid is used) to flush the lines. The tight fit of the projectile seals the product from the cleaning liquid, preventing pushing fluid from mixing with the product. Using compressed air, this projectile retracts at the close of the cleaning cycle, freeing the next production cycle to launch. Once again, it won't ever mix with the cleaning fluid.
See our Rapid Recovery system in motion.
This simple system reaps extraordinary benefits for producers of dairy, beverage other applications involving piping of viscous product.
Here are six key benefits:
Recovering lost product. Without a scraping/ pigging system, product and flushing liquids mix at both the beginning and end of the flushing cycle. This causes product to stick to piping walls, and if it gets diluted with cleaning fluid, it must be discarded.
Speeding up CIP cycles. Because the flushing liquid is unimpeded by viscous solids, it takes less time to clean. The SPX FLOW design boosts speed substantially, giving you more time for production.
Reducing changeover time. In addition to spending less time flushing, you'll reduce changeover intervals.
Improving sustainability. There's less time needed to recapture lost products, which means less time dealing with waste. And without conventional CIP, there's less need for water and steam, which means there's less need for energy to power pumps.
Enhancing product safety. Slightly contaminated water may be fine for cleaning but should never contact the product. Nor should cleaning chemicals. SPX FLOW Rapid Recovery uses a unique air-drying technology that removes liquid from the piping by completely draining the water at the end of the CIP cycle.
Lowering TCO. SPX FLOW Rapid Recovery scraping/pigging systems can pay for themselves in six to 12 months. That's much faster than the industry standard. If you're designing a new processing facility, now is the best time to think about your product recovery system. You can also retrofit SPX FLOW Rapid Recovery system to any legacy system and enjoy the same benefits.
It's our goal to provide customers with the innovative and sustainable solutions they need. While the rapid recovery system is one small piece of the production cycle, it has a much larger impact on your product quality, costs and time. Find more on our APV systems.