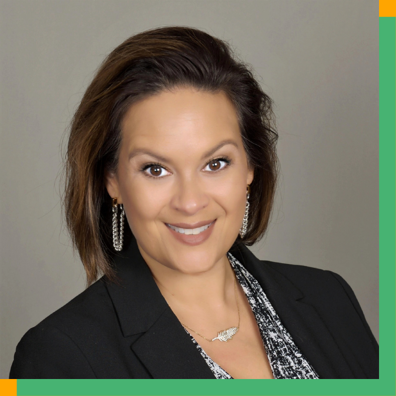 In honor of National Hispanic Heritage Month, I recently sat down with Lydia Zepeda, who leads our growth strategy and key account engagement in the Western Region. When asked what her Latina heritage meant to her, she spoke of a rich family history, compelling stories and memorable traditions. Like how her mother worked three jobs to support their family, how that resilience has shaped her career and how her family now celebrates National Hispanic Heritage Month with traditional foods, dances, and stories. I always learn so much when hearing from our solution makers, and Lydia's narrative proved this all the more true.
We're sharing Lydia's story in celebration of Hispanic solution makers in all areas of our business, community, culture, and society. Enjoy this recap of our dialogue:
Dori: What does Hispanic Heritage Month mean to you and how do you and your family celebrate?
Lydia: We get together with the older generations and make foods we enjoy. We arrange it in an assembly line, and everyone talks, sharing stories new and old. Our culture is extended into our language, our history, in getting to know our family tree, the food we eat, the music we dance to and all the small details that make us who we are. Growing up I saw many examples of incredible resiliency. When we face hardship and obstacles, the sense of community we can have regardless of the color of our skin, the rich diversity of culture that is unparalleled, and the genuine love that we have for one another is a cause for celebration.
Dori: What makes you most proud of the Hispanic/Latina Culture and Heritage?
Lydia: My mother worked three jobs to support myself and siblings, and though we didn't have much, we shared through welcoming friends over for a meal and games. It's this resiliency that I'm most proud of. She also raised us around many different ethnicities. This gave me the opportunity to experience various cultures and draw influences from all of them.
Dori: Please tell us a bit about your story, what has been your career path and what/who has had the greatest influence on you professionally.
Lydia: This would be my grandparents. My maternal grandparents survived the Great Depression, so I grew up hearing stories of my grandmother working in Texas cotton fields with a baby tied to her. When she became sick, my aunts and uncles all stayed to help my grandfather care for the younger children. When I hear these stories, I hear resilience. I hear loyalty to family and helping one another. This has shaped my leadership style and career. My father's parents were also very influential in shaping me. Parenting 12 children, their legacy of a good education and religious rigor prepared us for the best opportunities and to work hard for what we want in life. It's something I inculcate into my children.
Dori: How has this shaped your career?
Lydia: I began my career as a single mother of three children, two in diapers. So these core values I have learned from my Latin heritage: to be ambitious and hardworking despite obstacles, has really shaped me. It encourages my competitive mindset and entrepreneurial curiosity when making decisions that benefit the company and turn situations into wins. As I develop my career in the industrial space, I aspire to make an even larger impact on the industry, through gaining more global commercial exposure for SPX FLOW.
We say it time and time again, but it's true. We wouldn't be where we are as a company and culture without the dedicated and innovative progress of our solution makers. That's why recognizing ALL our solution makers for their unique strengths and qualities is important to us. It's bringing your authentic self to the workplace, your true self. Because ultimately, what makes us different is what makes us better. Happy National Hispanic Heritage Month!
Always, better together.