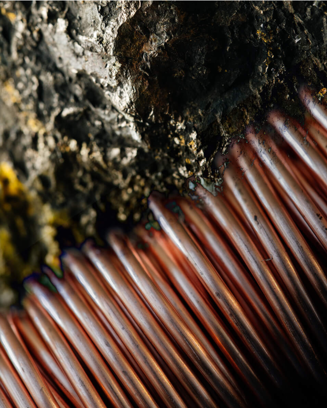 We take pride in providing innovative solutions to meet our customer's needs. Take the metal purifying process as an example.
It can be challenging to mix liquid where the ore is crushed, ground, and concentrated into dissolution. If suspension settles at the bottom of the mixing tank, the technology fails. The yield and production capacity suffer first. Worst-case scenario, the entire process must shut down.
It's a frequent problem.
To combat this, mixing solutions need the right agitators in the right places, combined with the optimal power and speed for best results.
When a plant in China experienced this type of problem, our mining team stepped in. After several interviews with the plant's operators, we took a sample of the leached material to the laboratory to simulate the mixing conditions and confirm the variant.
The analysis uncovered problems with the reactor's agitator. Impeller misconfiguration caused injected gas to flood the impeller. The flooding, plus the team's discovery of a poor baffle and outlet design, caused partial solid settling in the mixing tank.
We had found the bottleneck.
We designed a new impeller to reduce flooding and the partial settlements left behind. We also redesigned the baffles and outlet structures, improving mass transfer to extract the more valuable metal from the lesser lost to the waste stream. 
We then installed the necessary impellers and tank internals, ensuring a fast-track, low investment retrofit project with minimum shutdown. The plant was pleased that our efficient work fixed the problem without requiring a complete shutdown.