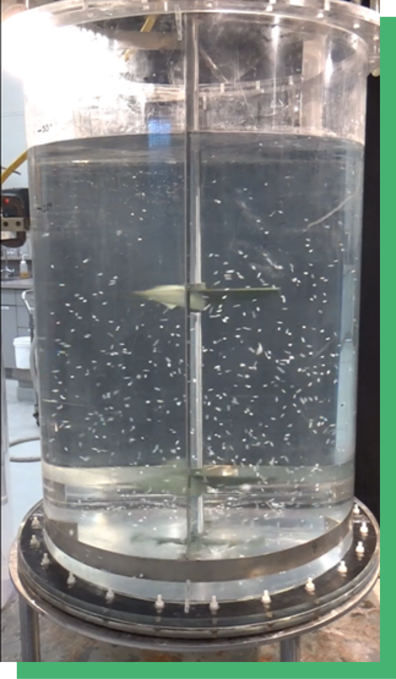 Let's be honest, no one likes a one-tier cake. It's lacks depth, volume and it's difficult to share. That's why bakers decorate two, three, even five tier-cakes. Your cake should make a statement.
But that means every cake's tier depends on the one beneath it. We proved that recently, when we stacked two of our mixing portfolios to develop a new solution for a specialty chemical client.
A Prior Relationship
The company in Western Europe recently asked our Finland team, part of the Uutechnic brand, to design efficient mixer specifications for their new tank system. We've partnered with this customer for over two decades, improving their mixing processes globally, and they've also used Lightnin mixers for several years in the Americas. In January, SPX FLOW acquired Uutechnic, and now the customer wanted a tiered cake.
Getting it Right
The company sent our Uutechnic team the specs for the tank system. They outlined the size of the tank, which would be used to mix ground calcium carbonate, the particle size distribution (PSD) and the viscosity of the slurry. Because Uutechnic is now part of SPX FLOW, we had the opportunity to leverage the expertise of our Innovation Center in Rochester, N.Y. There, we tested the suggested mixing process using actual material received from the customer.
The initial agitator sizing was based on the received product data. In the lab testing, however, we found the product was not moving over the whole tank height. In fact, the upper part of the tank was not moving at all if the agitator rotational speed was not increased significantly above the intended speed. We attributed this behavior to the product being much more viscous than the information we originally received. Based on the findings, the product could be mixed by increasing the rotational speed (rpm) of the original design, but increasing rpm is not an efficient way to mix a very viscous product. Further lab tests proved the whole tank could be mixed with less power input by increasing the impeller diameters. So that's what we designed.
Icing on the Cake
After this discovery, we recommended the agitator with larger impellers. It would create a stronger flow field with each agitator revolution instead of increasing the shaft's rotational speed. They accepted our recommendations, and we've begun manufacturing this specialty mixer. This innovative solution also became an opportunity for our teams to leverage our collaborative skills.
By combining Uutechnic and Lightnin, our distribution networks are even wider, our expert insights are even broader, and our strategic engineering practices are even sharper. We're better together.
Now, who wants cake?