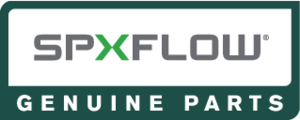 Historic Performance
For more than a century, SPX FLOW has been testing and refining parts that work. The result is a full range of genuine, OEM spare parts that work seamlessly with your equipment. Simply stated, OEM parts are the best, most efficient replacement parts available. However, we understand that whether for your personal vehicle, or your process line at work, most people turn to non-OEM replacement parts for one of two reasons: price and/or availability.
We know that both these issues are important to you. But we also understand that your most important issue is uptime. And that means equipment that runs at optimal performance.
Unfortunately, when you install a third-party aftermarket part into an existing original equipment scenario, this can void your warranty. That's because all our parts are engineered to work seamlessly within the process functions they were designed for. Even the tiniest bit of lag or play can impact efficiency, become a potential safety hazard for your employees or cause a process line to go down until a proper replacement part is ordered and installed.
No amount of downtime, and certainly no potential safety hazard, is worth saving money on a "might fit" part.
Historically Reliable
Every part we manufacture is designed to precise specifications to satisfy the requirements of a particular industrial process. As such, our genuine parts are always the best choice for maintaining maximum efficiency in all SPX FLOW industrial equipment. SPX FLOW replacement parts are designed to exacting detail and are meticulously measured for the highest level of reliability.
Experienced After-Sales Support
SPX FLOW offers a broad range of genuine spare parts and service plans that extend the lifecycle of our products. The SPX FLOW Genuine Spare Parts Service incudes access to our full engineering capabilities and regular equipment service audits. Our experienced team has the engineering expertise necessary to ensure reliable, effective, and optimized solutions for any equipment-based issue. Featuring detailed equipment service audits, this parts service can predict and prevent productivity loss, unexpected downtime, and reduced process output. Additionally, SPX FLOW offers certification, safety and training designed for maximum uptime.
Global Distribution Network
Because we service customers around the world, we maintain a reliable network of global partners that maintain a robust inventory of genuine OEM spare parts that are available to ship. Fast.
Even though third-party parts may look identical to OEM parts, they are not. The best way to be certain you are purchasing a genuine SPX FLOW replacement part is to buy form one of our authorized distributors.
At SPX FLOW, we understand the high costs associated with downtime. That's why we provide a range of solutions to keep your operations up and running efficiently, all while helping you save money. Our comprehensive offerings include predictive audits, exchange services, upgrades and much more.