Product Type:
Rotary Lobe Positive Displacement Pump with optimal efficiency
Operational Features
Smooth flow
Gentle product handling
Dry running ability with double seal
Handles low and high viscosity products
Simple maintenance
Hygienic design
Low sound level
CIP capability standard
Free draining pump housing
Unique rotor attachment
Robust construction
Process flexibiltiy
Single mechanical seals standard. Optional double mechanical seals also available
Grease lubricated bearings for positive lubrication over speed, temperature
ATEX Certified 
CE Certified
Installation Features
Bi-directional flow
Easy service and maintenance
Horizontal or vertical mounting
Easy to disassemble and reassemble
316L stainless steel pump body and cover
Versatile 4-way mounting of gear case, including vertical alignment of ports
Product Benefits
Flushed double mechanical seals optionally to allow dry running
Very low shear, product not damaged during pumping
No internal rotor contact
Large fluid cavities can pump liquids with large solids
No cross-contamination of lubricating oil into product zone due to unique gear case design
Pumps are energy efficient and easily cleaned, maintained and repair
Limited Release. Please contact Sales for product availability in your region.
Metric Dimensions
TLP - Side View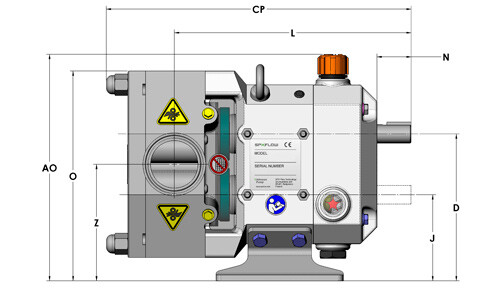 TLP - Top View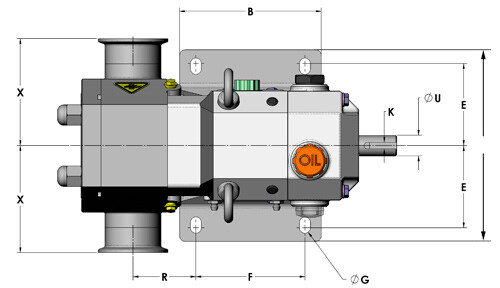 Model
A
(mm)
AO
(mm)
B
(mm)
CP
(mm)

D
(mm)

E
(mm)
F
(mm)
G
(mm)
TLP0040
175,5
230,5
130,0
281,4
149,6
72,8
100,0
10
TLP0100
175,5
230,5
130,0
286,8
149,6
72,8
100,0
10
TLP0140
175,5
230,5
130,0
298,7
149,6
72,8
100,0
10
TLP0230
175,5
230,5
130,0
299,1
149,6
72,8
100,0
10
TLP0300
175,5
230,5
130,0
311,1
149,6
72,
100,0
10
TLP0670
239,1
310,6
160,0
396,4
205,9
99,5
120,0
13
TLP0940
239,1
310,6
160,0
423,9
205,9
99,5
120,0
13
TLP2290
301,1
384,6
250,0
553,6
263,7
130,5
210,0
13
Model
J
(mm)
K
(mm)
L
(mm)
N
(mm)
O
(mm)
R
(mm)
U
(mm)
X
(mm)
Z
(mm)
TLP0040
87.6
6X6
227,6
34.7
231,6
43,5
19
98,0
118,6
TLP0100
87,6
6X6
229,0
34,7
231,6
44,9
19
98,0
118,6
TLP0140
87,6
6X6
235,8
34,7
231,6
51,7
19
98,0
118,6
TLP0230
87,6
6X6
235,9
34,7
231,6
51,8
19
98,0
118,6
TLP0300
87,6
6X6
241.8
34,7
231,6
57,7
19
98,0
118,6
TLP0670
112,9
10X8
321,0
57,6
292,9
75,5
38
124,0
159,4
TLP0940
112,9
10x8
332,6
57,6
292,9
87,1
38
134,0
159,4
TLP2290
138,7
16x10
437,0
85,6
368,2
81,5
55
159,0
201,2
Brochures
TopLobe Plus, Rotary lobe pumps
‖ GB
‖ BG
‖ CN
‖ DE
‖ DK
‖ ES
‖ ET
‖ FI
‖ FR
‖ GR
‖ HU
‖ IT
‖ LA
‖ LV
‖ NL
‖ NO
‖ PL
‖ PT
‖ RO
‖ RU
‖ SK
‖ SV
‖ TR
Manuals
TopLobe Plus, Instruction Manual
‖ GB
‖ BG
‖ DK
‖ DE
‖ ES
‖ FR
‖ IT
‖ NL
‖ PL
‖ PT
‖ RO
‖ RU
‖ SV
‖ TK
‖ UKR
Spare Part Kits Manual
‖ GB