To the ingenious minds of the engineering world, a hundred years holds profound significance - a testament to innovation, durability, and excellence. As we approach the momentous 100-year milestone of yet another SPX FLOW innovation, APV's plate heat exchangers (PHEs) and the engineers that design them, have much to be proud of. For customers, this means their industrial and food & beverage manufacturing is supported by a technology that's been reaffirmed for a century. Originally the Aluminum Plant & Vessel Company, Limited, APV today represents a brand that has not only endured but thrived for a century. And to think it all started with plate heat exchangers. 
We recently commemorated this anniversary at the SCI APV Seligman Lecture in London where Global Product Manager Con O'Driscoll recapped a bit of history and explained how Dr. Seligman's invention still drives our solutions today. 
"I was pleased to talk about the 100-year anniversary, and it provided us the occasion to celebrate the close relationship SPX FLOW has retained with the Seligman family over time. SOCI was a fantastic host bringing likeminded industry professionals together, online and in-person," said O'Driscoll.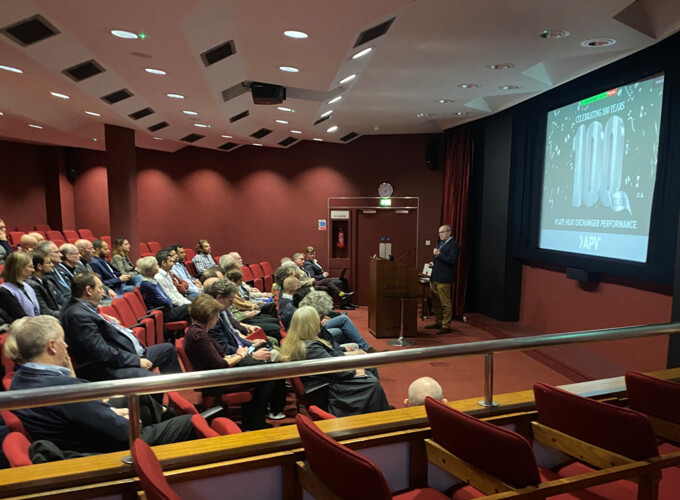 A Storied Past 
APV proudly produced the world's first commercially successful plate heat exchanger in 1923, thanks to the visionary mind of Dr. Richard Seligman, the founder of APV. This groundbreaking invention brought about a revolution in milk pasteurization with the introduction of the 'high temperature short time' (HTST) method, which quickly became the industry standard. Since then, APV has continuously evolved and grown to meet the changing needs of our customers and their industries. 
This is largely due to the vital role these plate heat exchangers play across a wide range of applications, including heating, cooling, condensing and evaporation, serving industries such as food and beverage, oil and gas, chemicals and general industrial processes.and general industrial processes. 
SPX FLOW acquired the brand in 2007. 
Hearing from Engineers: 
As the original, the APV brand has been used as the industry standard and educational inspiration for up-and-coming engineers. Upon highlighting the anniversary on the SPX FLOW Nutrition & Health social page, one user shared, "[I] did my master thesis for APV when it was still a "young" company back in 1995/96. [I was] comparing microfiltration with bactofugation for treatment of cheese milk and its impact on final cheese quality."" 
Another said, "People [can't] imagine all applications and duties that plate heat exchangers fulfil. We can find them everywhere and they are often the first component to define on a process line (flowrate, pressure losses, energy consumption and saving). The APV plate heat exchanger range meets a lot of technical demands (pressure and temperature requirement, cleanable, hygienic ...). I'm proud to have worked on all these projects so different and so interesting." 
With a century of experience and innovation, APV stands as a trusted leader in the plate heat exchanger market. Team members, or "solution makers" as we like to call them, are committed to ongoing innovation, ensuring that our customers have access to the most advanced, high quality, adaptable and efficient plate heat exchangers in the market.  
And the legacy continues. Stay tuned for an exciting innovation, sure to enhance your safety and sanitation when working with our PHEs all while using less hydraulic oil in the process.