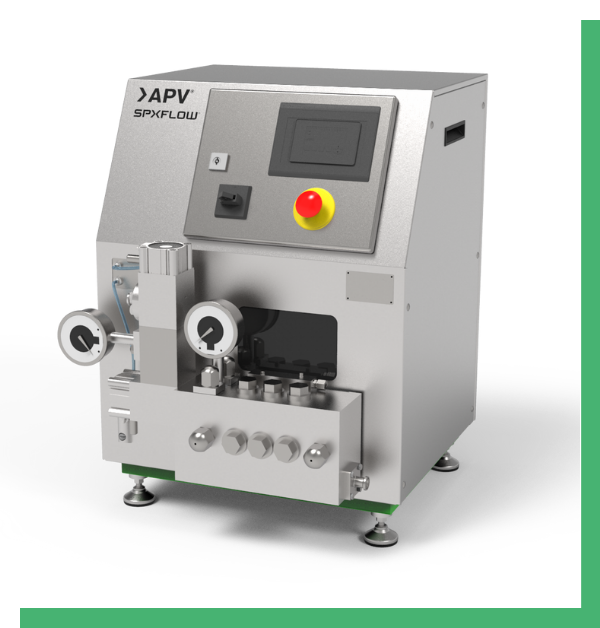 How's the flavor? Is it too sweet? Too sour? Not enough texture? Customer's tastes always change, but with rapid and consistent testing, producers can perfect their flavor profiles until they find that right balance.
Recognizing this, International Flavors & Fragrances (IFF) began testing one of our compact homogenizers late last year, the new APV Pilot 4T, to develop recipes for food and beverages. This included dairy products and plant-based food, like peas and oats. The Pilot 4T's new, sleek design allowed for running lab tests or small-scale productions and is useful for a range of customers, particularly food and beverage producers targeting the growing demand for enhanced nutritional or plant-based products.
We've pioneered homogenizers through the APV Rannie and Gaulin brands, but this new advancement is different. The APV Pilot 4T helps save time and money for several groups: producers needing homogenizers, R&D and product development teams who must scale up quickly without losing quality or taste after developing new recipes and processes, and OEMs and integrators who benefit from variable capacity, compact design, short delivery and ease of integration.
"We needed a homogenizer that's reliable, flexible and offers guaranteed scalability to large production," said Erik Krabsen, IFF's Group Manager Pilot Plant Dairy and Beverages. "The 4T's control system with variable speed drive makes it very easy to control the flow rate accurately. It's also quieter than other homogenizers and it takes up less space."
Now approved following testing, the APV Pilot 4T Homogenizers will meet a broad range of customers' needs, supplying repeatable performance and product quality that can be scaled up to production machine capacities with confidence, accelerating how quickly new products get to market.
In addition, the APV Pilot 4T offers these benefits:
Flexible capacities that can be easily adjusted for flow and pressure
Easy ways for users to operate, from manual to fully automatic touchscreen PLC control
Compact modular construction options
Plug-and-play technology that saves time and money due to integrated controls and variable speed drive
A three-plunger design that improves stability for pump, single- or two-stage homogenization
Less maintenance
Rarely do products test perfectly from the start. Rounds of revisions are necessary to reach the broadest range of flavor profiles, texture and market expectations. This new homogenizer allows for just that with little waste when test results need to be refined. See how far we've come with the APV Pilot 4T.