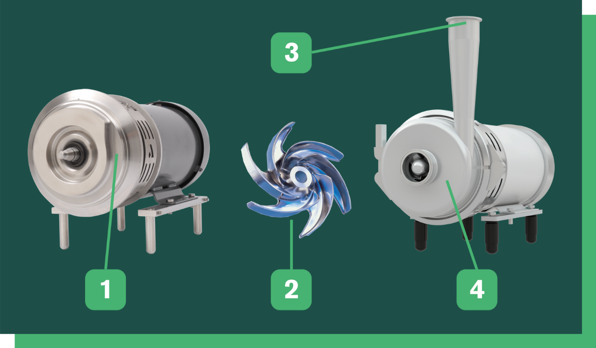 As the COVID-19 pandemic rages on and people are forced to quarantine, there's been a growing need for groceries and cleaning products.
And this challenge comes at a time when food and medicine manufacturers have struggled to get parts from backlogged supply chains and fill jobs from a shrinking labor pool. Everyday our industry is evolving, and your equipment should too.
Centrifugal pumps have been critical. A range of manufacturers need them to produce products, from orange juice and milk to dish soap and high-end liquids like water for injection (WFI).
While centrifugal pumps are common, efficiency is not. Most pumps have a pressure capacity of 10 bar or about 145 pounds per square inch (psi). These will get the job done. But what about a pump solution with a pressure capacity of 14 bar or 203 psi?
More than having a centrifugal pump, companies need select the right centrifugal pump. This will vary by industry and product, but when selecting, consider these questions:
What are my high pressure and flow capacity needs?
Will I need CIP/SIP compatibility?

If so, you will require O-rings (seals) that are compatible with your product and the cleaning method.

Based on location, what sanitization requirements should I bear in mind? 3-A?

This is important because equipment standards vary by country.
Limited maintenance and greater hygienic certifications are key to safely keeping up with the world's food and pharmaceutical demands. There are 18 models to choose from just at SPX FLOW, but for its heavy walled encasing, shaft seal options and spiral volte design, our solution makers suggest the W+ IEC Centrifugal pump. Fit for purpose and size.
Benefits include:
Interchangeable single/double mechanical seals
Low NPSH requirements
AISI 316L wetted parts
As India battles COVID-19
You need your equipment, and you need it quickly. Fortunately, our plants are strategically placed to support key customers around the world. In India, for example, where I live, our W+ centrifugal pump operation is now localized, ensuring fast delivery throughout the region. This is especially important because tens of millions of COVID-19 cases have forced many to quarantine. With people staying at home, companies based in India and abroad need be prepared to increase mass food and pharmaceutical manufacturing. A centrifugal pump is at the heart of this.
We're working to improve the world through innovative and sustainable solutions. To do so, we're providing solutions that are fast, reliable, and hygienic to make the greatest impact on communities around the world. The W+ centrifugal pump is just one way we're doing this. See more centrifugal pump solutions.