Water is one of our planet's most precious natural resources. And our manufacturing industry uses more than its fair share of freshwater withdrawals, as much as 18.2 billion gallons per day[1]. So, it's no surprise most manufacturers have sustainability goals in place to reduce water consumption.
When you consider how the scarcity of this resource contributes to rising costs, businesses that reduce water consumption not only help save the planet, but increase their bottom line.
At SPX FLOW, we take water consumption seriously. Recently, we installed a closed-loop water system at our manufacturing site in Ocala, FL that reuses wastewater as a cooling system. We expect to save nearly 400,000 gallons of water annually.
Our commitment to water conservation shows up in the solutions we design, manufacture and service for our customers. We know they have sustainability goals too.
A few of our most revolutionary water reduction breakthroughs include:
APV Homogenizer Water Recycling System (HWRS)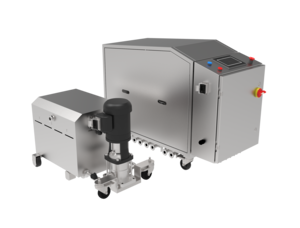 Traditional homogenization requires the use of copious amounts of water. The more homogenizers that are in use, the more water is consumed and wasted. Now imagine a plug-and-play system that can fit or retrofit to any homogenizer and reduce water usage by up to 97%[2]. You read that right - a homogenizer that uses just 3% of its current water consumption to run the same processes it currently runs. That's the APV HWRS. Featuring a closed-loop water treatment system, our HWRS virtually eliminates water use providing a sustainable, cost-effective solution for a range of applications from dairy to industrial.
APV/WCB D4/DA4 Series - Double Seat Mix Proof Valves

Intentionally designed for maximum efficiency, the D4 valve series was developed leveraging computer simulation to optimize the flow of fluid through the valve. Our DA4 double seat mix proof valves require up to five times less cleaning fluid than our competition during cleaning in place (CIP). This improvement leads to less chemical and water use which limits the amount of waste-water treatment, and the related energy consumption needed for this additional process. Additionally, the valve's balanced design allows for a minimized actuator. This leads to improvements in the air consumption needed to actuate the valve during operation which decreases energy consumption needed to compress air within the factory. More on these valves here.
APV Aseptic Rapid Recovery System (ARRS) – Pigging Technology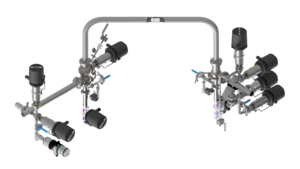 Commonly used in the production of liquid and viscus products, ARRS is a pigging technology that allows product recovery from process pipes. Engineered to be safer, cleaner and more productive than anything on the market, ARRS provides the highest hygienic process available for ambient, aseptic, high value viscous products and more while reducing product loss from 4% to 0.5%[2]. Thanks to an expedited cleaning process, APV Aseptic Rapid Recovery System, yields up to 50%[2] more uptime. This minimization of clean in place technology translates to a reduction of chemical and water usage by 60-70%[2].
At SPX FLOW, sustainability is more than just an industry buzzword. It's our mission. Within our own facilities and through the products and solutions we engineer and manufacture — every day is Earth Day.
[1]As referenced by the United States Environmental Protection Agency; https://www.epa.gov/sustainability/lean-water-toolkit-chapter-2
[2]Figures contingent on actual running conditions within a plant.