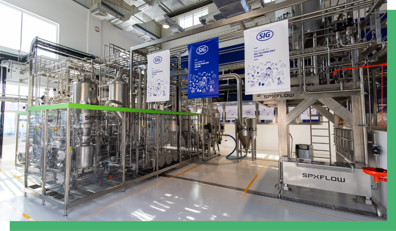 The way we work with companies often results in new ways to help customers.
Today marks a perfect example.
We've been collaborating with the SIG Combibloc Group, which delivers safe, sustainable and affordable packaging. Together, we've opened an Innovation Center that helps our nutrition and health customers manufacture products and get them to market faster. It stretches the value chain all the way from research and development to processing and packaging.
We did this because there's a growing demand for smart innovation. Consumers want plant-based beverages. Milk drinks. On-the-go breakfast drinks. Smoothies with real fruit particulates. Cooking sauces. Creams. And functional, ambient yogurts.
The Innovation Center will be in the United Arab Emirates, and it's unprecedented in the region. Until now, customers across the Middle East, Africa, and throughout the Asia Pacific often had to travel to Europe to test recipes, processes and filling solutions. It was a logistical challenge that wasted time and money, forcing some companies to limit their investment in manufacturing and engineering new ideas.
Not anymore.
Much the work at the Innovation Center stems from our Ultra-High Temperature (UHT) treatment, which we helped pioneer. Our UHT technology is on the cutting edge of not only milk and dairy processing, but also the processes for a variety of grains and nuts that make healthy drinks consumers demand. Customers will develop recipes using indirect heating with plate or tubular heat exchangers. We can also use direct heating with infusion or injection.
After using UHT technology to craft the recipe, customers will then benefit from working with SIG Combibloc. With SIG's food production license, the innovative recipes developed at the Innovation Center can be packaged and exported to any country.
That means the new collaboration allows companies to easily explore innovative ideas and advanced manufacturing before testing them rigorously.
Businesses can capitalize on the latest trends. It may be extended shelf life for food and beverage products. Or consumables for emerging markets with limited cold chain. Or maybe it's high-quality products with greater nutritional value.
The bottom line: it will now be infinitely easier for our customers to test innovations with their consumers.
You can learn more about the Innovation Center here, and below is a short video that explains more about the history and technology of our UHT system.