Innovation and Design Centers
SPX FLOW Innovation and Design Centers provide a state-of-the-art, collaborative space for customers to test, develop and perfect their critical manufacturing processes. These test facilities are intelligently designed to minimize waste, cost and development time in the product refinement process. SPX FLOW has more than 26 Innovation and Design Centers worldwide, which offer support from food technologists, product specialists, process and production engineers, electricians and other specialists.
Forming a new product with a competent competitive edge can be financially taxing due to the time, waste, and opportunity cost associated with the development of a product. Unfortunately, the immense cost associated with the refining of a product often results in failure, "failure rates of new food and drinks products [are] as high as 70%-80%." As written in Hybrid Organizations: New Business Models for Environmental Leadership.  According to 42% of the BCG 2015 Global Innovation Survey participants, the high rate of innovation failure is directly linked to long development times.
However, the SPX FLOW Innovation and Design Centers work specifically to mitigate the daunting time, opportunity and financial cost of developing a product. Our innovation centers employ cutting-edge production technologies and the deep expertise of process engineers. The innovation centers' staffs are well-versed technologists, who have all accrued experience across several industries. The team at SPX FLOW will help develop a system that exactly fits any production needs. From designing the perfect texture and mouthfeel in the dairy industry to optimizing pharmaceutical production lines, SPX FLOW process engineers are dedicated to building efficient process solutions.
The SPX FLOW Innovation and Design Centers are the optimal environment for scaled process testing, hosting a wide range of scalable test equipment and a number of magnified analysis systems to support internal and external trials. This test environment is therefore perfectly suited for high-risk projects, allowing an externally "safe" environment to troubleshoot applications and products. Yet the SPX FLOW Innovation Centers are more than safely removed test environments; they each offer a set of additional services and uses. Each manufacturing test environment offers product line optimization to reach the maximum yield and standard of quality, applied training courses, scale-up plans and full test center rentals.
The SPX FLOW Innovation Centers are pointedly focused on assisting in developing the innovative products and processes for the dairy, food and beverage, chemical and pharmaceutical industries.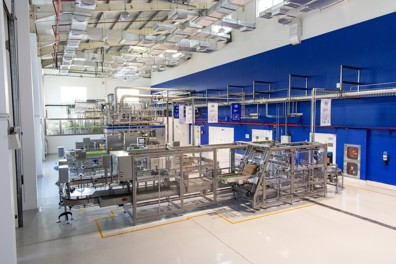 Facility Capabilities and Specialties
Heat Treatment/UHT
Direct and Indirect Heating
Complete Infusion Plus Capabilities
Testing, Packaging and Shipping
Virtually Eliminates Cold Chain Restrictions
Dairy, Nut and Plant-Based Processing
Accelerates Time to Market
The SPX FLOW Innovation Center in Dubai, UAE is the first research and development facility of its kind serving the Middle East and Africa. In collaboration with SIG Combibloc, our Dubai Innovation Center offers customers in the region a complete delivery solution that stretches the value chain all the way from research and development to packaging. Our newest center not only accelerates the time to market, but also virtually eliminates the cold chain. Plus, with the range of UHT processes available from dairy to plant-based, consumers in the MEA can stay ahead of consumer trends without leaving the region.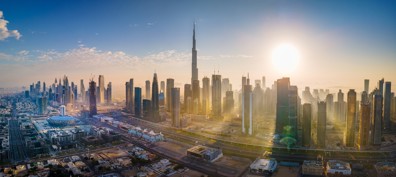 The SPX FLOW Innovation Center in Copenhagen, Denmark features a full range of drying, evaporation and crystallization technology systems. SPX FLOW process engineers assist customers in developing optimum output and factory performance, regardless of drying method. The innovation center staff are all well versed in a multitude of drying requirements, preserving proteins, waste steam recovery and working with dyestuffs. The innovation center houses spray drying, spin flash drying, aseptic drying and atmosphere drying systems; all available for trial.
The SPX FLOW Shanghai Innovation Center is positioned within a full-scale manufacturing campus operating production, research and development, engineering and distribution channels collectively. Functionally the SPXFLOW Shanghai Innovation Center offers cutting edge dairy manufacturing equipment developed by award-winning SPX FLOW brands. Process engineers of the SPXFLOW Shanghai Innovation Center are focused on creating optimized process solutions that meet food and beverage regulations and standards across the globe.
Facility Capabilities and Specialties
Heat Treatment/UHT
Membrane
Separation
Mixing and Blending
Cavitation Technology
Homogenizer Applications
Pumps and Valves
Rental Equipment
This facility focuses on providing a responsive test environment for the food and beverage industry. Designing, developing and optimizing food and beverage production processes requires a broad range of contemporary manufacturing equipment. The Silkeborg SPX FLOW Innovation Center was implicitly designed to provide customers with the exact tools to optimize their product and process. 
 The Silkeborg, Denmark SPX FLOW Innovation Center offers complete sets of scalable test equipment for dairy, food, and beverage industries. The Innovation Center's laboratory is also deeply connected to a set of process-wide controls. This integrated system allows for detailed process analysis and product trials. 
Facility Capabilities and Specialties
Wet Applications and Products
Cavitation Technology
Heat Treatment/UHT
Membrane Filtration
Microparticulation
Mixing and Blending
Butter Technology
Separation
Deaeration
Homogenizer Applications
Soymilk Processing
Bag-in-Box Filling
Rental Equipment
To support the development of fresh dairy products, the SPX FLOW Innovation Center located within the French National Dairy School (ENIL) features a range of modern dairy production equipment. This university, with experience in cheese making and other fermented products for more than 130 years, is comprised of two independent SPX FLOW pilot plants, specializing in the production development of fresh fermented dairy products like yogurts (set, stirred, drinking, flavored, Greek, high protein etc) and cheeses without whey separation (soft cheese, semi-hard cheese, spreadable cheese) using SPX FLOW patented technology respectively.  Products can start from dairy or vegetable/plant-based ingredients. In addition to the range of developmental options, the campus is privy to the expertise of ENIL to assist customers in optimizing products, developing competitive product lines and constructing long-term growth strategies.
Facility Capabilities and Specialties
Recipe development and optimization for fresh dairy products
A complete multipurpose pilot plant
Fermentation and ingredients expertise
Innovations in cheese
Stakeholders partnership
The dynamics of a university combined with SPX FLOW's Technology
SPX FLOW has put in place secure, remote procedures to procure raw materials and conduct trials on behalf of its customers, sharing results and shipping samples of products to customer sites on completion of tests. This means that even with the current travel restrictions, producers can continue to innovate and gain competitive edge with new product introductions and improvement programs.
SPX FLOW Fresh Dairy Innovation Center
"SPX FLOW and the national French dairy school (ENIL) have combined their expertise to bring you an Innovation Center specifically designed to enhance Fresh Dairy Processes."
Download Fresh Dairy Innovation Center Flyer