Nexus - Pilot Plant For Fat Crystallization - Small Scale Scraped Surface Heat Exchangers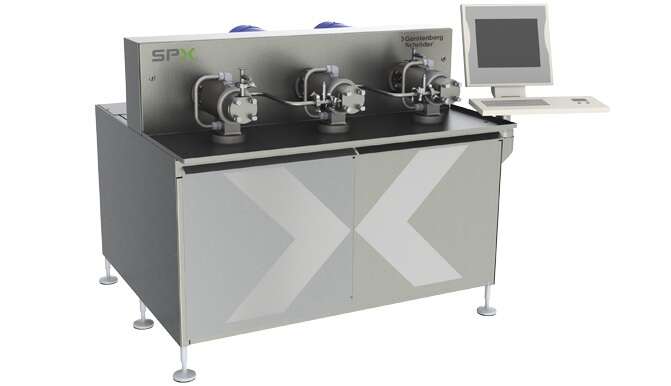 Product Type:
Systems / Crystallization
A scraped surface heat exchanger pilot plant for crystallized fat products like margarine, shortening and spreads.
The pilot plants, GS Perfector® pilot plant and GS Nexus pilot plant, feature high-pressure pump, chilling tubes, various kneading units and resting tubes. The pilot plants are suitable for crystallized fat products like margarine and shortening.
Furthermore, pilot plants are available for thermal processes such as heating, cooling, pasteurization and sterilization of food, pharmaceutical and chemical products.
Flexibility: The Nexus pilot plant is ideal for crystallization and cooling of various kinds of food products. This highly flexible unit is utilizing the efficient CO2 as cooling medium. CO2 offers a higher capacity and a low energy consumption compared to NH3 and Freon.
Easy scale-up: The pilot plants give you the opportunity to process small-scale samples under exactly the same conditions as those generated in large-scale production facilities.
Product references: margarine, shortening, table margarine, cake and cream margarine, butter, recombined butter, low fat spreads, chocolate spread, chocolate filling, milk rice, rice pudding.