Product Type:
Universal 2 Bio-Pharmaceutical positive displacement pumps are designed for pharmaceutical and biotech processes.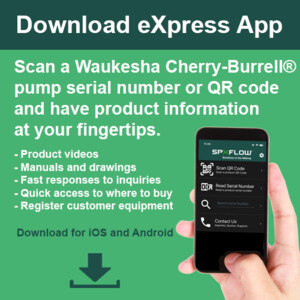 With advanced features of the Universal 2 PD pump, the Universal 2 Bio-Pharmaceutical is designed for the special requirements of pharmaceutical and biotech processes.
316L stainless steel rotors standard; non-galling Waukesha "88" alloy rotors optional
316L stainless steel product contact surfaces standard; 316L stainless steel or electropolish of all product contact surfaces optional
Stainless steel bearing frame
Additional option: seal flush
Maximum pressure: 200-300 psi (13.8-20.7 bar), depending on model
Maximum temperature: -40°F (-40°C) to 300°F (149°C)
Time-tested Waukesha Cherry-Burrell® rotary pump; circumferential-piston operating principle
---
In the Waukesha Cherry-Burrell design, arc-shaped "pistons" (rotor wings) travel in annular-shaped cylinders machined in the pump body; the resulting long sealing path reduces slippage and produces a smooth flow of product without destructive pulses or pressure peaks and without valves or complex parts.
FOR LOW VISCOSITY FLUIDS
Rotors, made of Waukesha "88" alloy, can be run with close clearance to the 316L stainless steel fluid head, without galling or seizing should inadvertent pressure surges cause contact. The close clearances combined with the rotor geometry, which gives a long sealing path between the pump inlet and outlet, means low slip operation. As a result, you achieve: high efficiency, good priming ability, metering capability and good flow control.
FOR HIGH VISCOSITY FLUIDS
The large fluid cavities of the rotors ... plus the large, easy entry anti-cavitation ports, allow efficient pumping of high viscosity fluids, slurries or even liquids with large chunks or
particles.
FOR NON-LUBRICATING AND ABRASIVE FLUIDS
The Waukesha Cherry-Burrell design has no bearings in the fluid being pumped, no sliding or rolling contact and no rotor-to-rotor contact. This produces EXCELLENT SERVICE LIFE even under severe operating conditions.