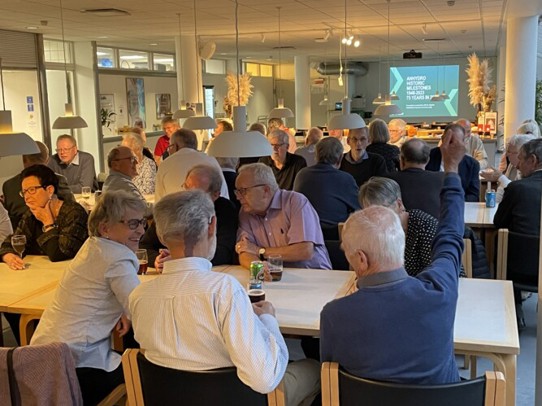 Do you ever wonder how your instant coffee, infant formulae milk powder, or favorite protein bar are produced? Behind the scenes of countless everyday products lies a fascinating technology known as spray drying.
At SPX FLOW, Anhydro spray dryers are the unsung heroes behind dairy, food and pharmaceutical production, transforming liquid dreams into dry reality. Anhydro is also recognized as a world-leading supplier of falling-film evaporators which are ideal for milk concentration under lenient and hygienic conditions.
The magic of Anhydro spray dryers and evaporators have been doing this for the past 75 years. Just recently, team members of the brand met in Soeborg, Denmark to celebrate and recap Anhydro's history since 1948.
Spray drying begins with a process called atomization where a liquid feed transitions into a spray of fine droplets, which instantly meets hot air in a drying chamber. The hot air causes fast evaporation to take place within the droplet, resulting in a dry powder having specific and desirable properties (solubility, flowability, particle size, bulk density).
The vast tonnage of different powder products produced every day, on all continents, by Anhydro spray dryers are essential in every aspect for our daily lives, from nutritional beverages, polymers, battery material in electric vehicles to pharmaceutical powders.
A Past in Powder
Founded by engineers Mr. K.J. Jensen and Mr. P. Berthelsen in Copenhagen, Denmark, Anhydro was based on the novel design of controlled hot air flow and efficient air-droplet contact. Since then, the brand has marked numerous milestones in processing equipment. With origins of selling spray dryers for skim and whole milk powders, to designing high-capacity evaporators and multi-stage dryers the height of six-story buildings, the brand has much to be proud of.
Did you know the largest aseptic spray dryer ever installed for pharmaceutical powders was designed by Anhydro?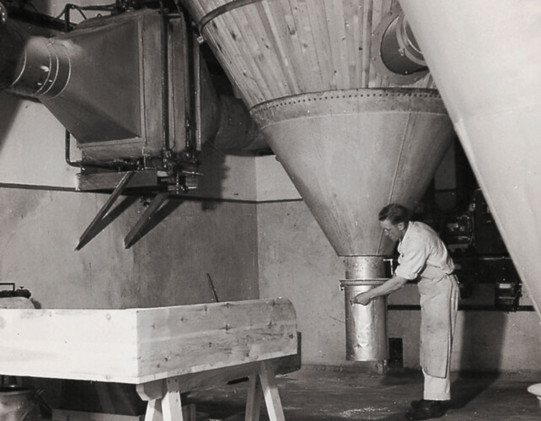 A Case Study: Anhydro Drives Success at Fonterra
At its award-winning milk processing facility in New Zealand, Fonterra was on a mission to optimize production while embracing sustainable practices. Fonterra's goals included enhancing powder capacity, improving energy efficiency, reducing water consumption, and minimizing greenhouse gas emissions.
Anhydro's team of dairy technologists and design engineers ensured that the high-quality milk available within the South Canterbury region could be efficiently processed into premium milk powder products intended for export to Asia leveraging its falling-film evaporator and Triple-A TM spray dryer performances.
Given the efficiency of these solutions, the Studholme location won Fonterra's 'Best Small Site Cup', internally referred to as their 'Oscars of Manufacturing.' The award is evaluated based on outstanding holistic performances in production efficiency, health and safety and sustainability.
Studholme's Site Operations Manager Alan Maitland said, "We are successful because we know what is expected of us and have the energy and personal interest to do the right thing. We need the best milk, and we can thank our shareholders/suppliers for that."
In Summary
As we celebrate Anhydro's 75th anniversary, it's clear the brand's commitment to innovation and sustainability remains unwavering. This case study is just one of many stories reflecting the brand's journey, and we look forward to the brand's continued success in the years to come.
So, the next time you enjoy a cup of soluble coffee, prepare milk bottle for your infant or a favorite instant drink beverage starting with powder, remember the magic of Anhydro evaporators and spray Dryers, turning liquid dreams into dry reality.