SPX FLOW's global network of manufacturing facilities feature the expertise of the specialized process engineers to design, construct and optimize custom process solutions. Along with cutting-edge customization options, SPX FLOW manufacturing facilities are focused on creating an optimal experience for our customers.
Custom Manufacturing
SPX FLOW's global manufacturing facilities are exemplified by their precision. SPX FLOW Process engineers construct industrial products to exactingly fit the specific needs of a process. The minutiae required to meet the careful details of an external process is a necessity to provide equipment that can be integrated seamlessly into a process and last decades within that same process. Much like spare parts, a misfit connection, between parts of a process, and lead to gradually yet vital damage to the equipment involved. Measurements off by the slightest detail could lead to an eroding product life cycle, severely shortening the average lifetime of a product.
To focus on creating an exceptional customer experience, SPX FLOW manufacturing facilities are often constructed strategically near major transport hubs. Quick product delivery and accuracy are critical to the modern e-commerce experience. SPX FLOW manufacturing facilities implement a series of detailed quality assurance checks in addition to third party certifications to ensure the on-time delivery of the exact product ordered.
SPX FLOW genuine spare parts are produced to specific measurements to match the customized design of the clients SPX FLOW equipment. SPX FLOW's manufacturing of genuine spare parts therefore need to be easily variable to nest fit the precise measurements of a custom design.  These genuine spare parts manufacturing centers are also equipped to expedite the shipping process to minimize a customer's effective downtime.
Delavan, Wisconsin
Delavan, Wisconsin is home to a modern hygienic and industrial process equipment manufacturing campus featuring industry lead engineers, cutting edge technology, extensive end user and channel partner training and departments dedicated to the production and service of pumps, valves, homogenizers, heat exchangers and specialty systems. The SPX FLOW facility is also a global manufacturer of genuine spare parts, positioned centrally to many transit hubs to expedite product shipping worldwide.
Rochester, New York 
The SPX FLOW Lightnin manufacturing facility in Rochester, New York is dedicated to the assembly, testing, painting and exporting of industrial mixing solutions. The facility houses research and development test centers, featuring large capacity test tanks and a full scale process technology lab. As one of the only dedicated portable industrial mixer manufacturers in the world, the Lightnin portable mixer facility a highly focused operation. Based in Rochester, New York, the 53,000 square foot facility is a streamlined yet highly nimble manufacturer. The Rochester mixer manufacturing plant's machining is designed for efficiency.
Rockford, Illinois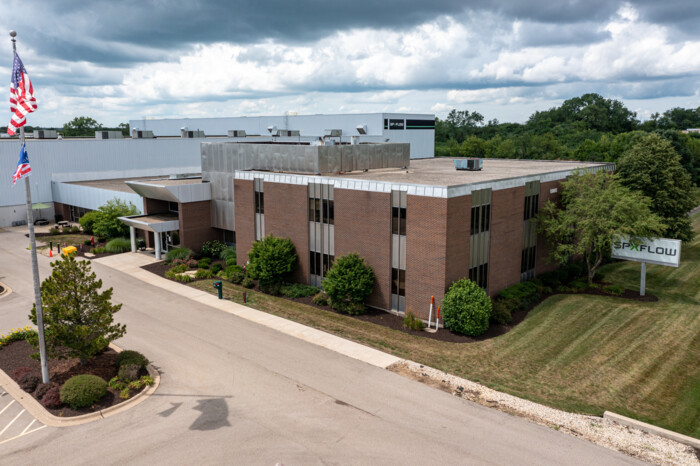 The Rockford, Illinois manufacturing facility is dedicated to the fabrication of hydraulic technologies developing hydraulic tools for construction sites, steel mills, power plants, shipyards, mining operations and bridge construction. Manufactured to strict ISO certification standards, SPX FLOW hydraulic technologies are intentionally designed to withstand harsh environments. The Rockford facility is also the US assembly site and distribution center for Johnson Pump Marine.
Ahmedabad, India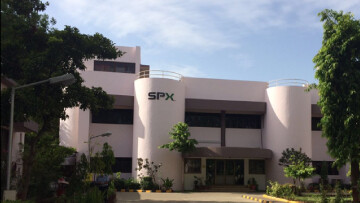 A mixed product line facility founded in 2001, and operates through two distinct plants: the Odhav Unit and the Bakrol Unit specializing in Assembly, Testing (Multi products), Product Design, Machining, Painting & Packaging. Operating within the Chemical Processing, Marine, Pulp and Paper, Waste and Water treatment, and Pharmaceutical industries.  
Shanghai, China
SPX FLOW Shanghai, China manufacturing campus consist of 4 separate service types: a production line, Innovation center, service and distribution center and an engineering lab. The Shanghai operation consist of ten lean functioning production lines for sanitary components and systems and industrial products. The SPX FLOW Innovation Center is focused on supporting customers to develop new products, and the refinement of functional food and beverage processes. The engineering and distribution centers both focus on the fulfillment of customized consume products respectively.