Bolting Systems Products - Torque Wrenches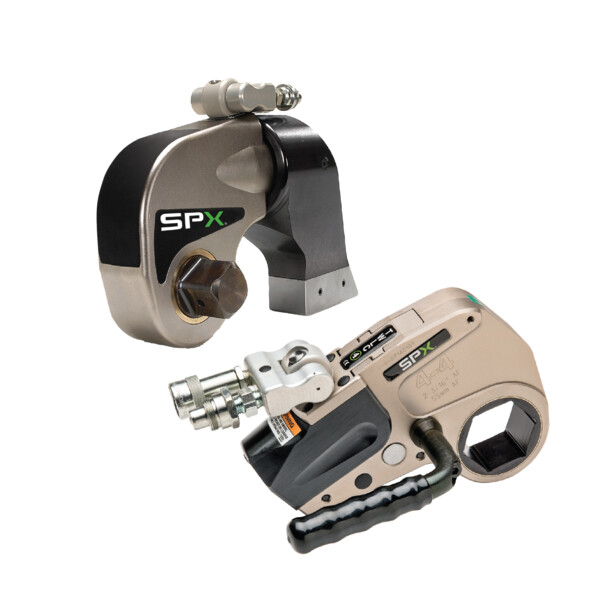 Product Type:
High Force Tools & Bolting Equipment / Controlled Bolting
High Cycle Torque Wrench
The Bolting Systems TWHC series torque wrench is designed for high cycle quality and lower cost of ownership. intently constructed for a cycle life two to three times longer than existing technology.
Quality means Lower Cost of Ownership:
Designed for high cycle life: 2 to 3x more than existing technology
Increased reliability: simple drive assembly means less downtime
Corrosion resistant material used for use in harsh environments

Enhanced Usability:
Compact nose radius allows the tool to fit in tighter, hard-to-reach spaces
Low weight, high strength design
Fast operation, long stroke and optimum flow
Multi-direction high flow swivel manifold
Push button square drive reversal and reaction arm positioning
Push-button release of square drive & reaction arm for all models except TWHC50.

Designed with Safety in Mind:
Fully enclosed drive mechanism for operator safety
Swivel manifold internal relief valve prevents retract side over-pressurization
Fine tooth pawl prevents tool "lock-on"
View Catalog - TWHC Series - US ‖ UK ‖ CN ‖ DE ‖ ES ‖ FR ‖ IT ‖ TR
SQUARE DRIVE TORQUE WRENCH
Light weight and high strength the Bolting System TWSD series tool features superior torsional strength, fast operation cycle, fine tooth pawl and floating piston design.
Low weight, high strength design
Superior torsional strength
Fast operation cycle
Fine tooth ratchet
Floating piston design
Swivel manifold internal relief valve prevents retract side over-pressurization
Rigid steel body construction
Compact frame size
Reaction and drive accessories available
Push button reversal of square drive
Corrosion resistant finish
360° reaction arm
Push to lock reaction arms
Multi-axis high flow swivel manifold
Simple design
Consistently accurate torque output
Fully enclosed drive mechanism
View Catalog - TWSD Series - US ‖ UK ‖ CN ‖ DE ‖ ES ‖ FR ‖ IT ‖ TR
TORQUE WRENCH LOW CLEARANCE
The Bolting Systems TWLC series wrench is a lightweight tool featuring low height and a tight nose radius. The TWLC series wrench was designed for the most inaccessible bolting areas found in industry.
Low Weight, High Strength Design
Superior Torsional Strength
Fast Operation Cycle
Fine Tooth Pawl
Floating Piston Design
Auto-Connect Drive Piston
Compact Frame Size
Rigid Steel Body Construction
Internal swivel manifold Relief
Built-in Reaction Pad
Small Nose Radius
Tool Free Link Change
Corrosion Resistant Finish
Multi-Axis High Flow Swivel Manifold
Simple Design
Consistent Torque Output
Powerthon™ Lifetime Warranty
View Catalog - TWLC Series - US ‖ UK ‖ CN ‖ DE ‖ ES ‖ FR ‖ IT ‖ TR
THE SLIMLINE TORQUE WRENCH
The Bolting System TWSL series slimline torque wrench is engineered to meet the demand for a tighter fitting wrench in the oil and gas market. The TWSL slimline torque wrench is engineered to fit inaccessible applications with minimal clearance.
Dynamic engineering modeling (FEA) optimized tool design to extend life and durability
The SlimLine links use the same quick change Drive Body as the existing TWLC links
Small nose radius, fits all standard API and ANSI flanges
Rigid steel body construction with corrosion resistant plating
Fully enclosed drive mechanism for operator safety
Swivel manifold has an internal relief valve to prevent retract side over-pressurization
Multi-Swivel technology for free positioning of tool and hoses
The Drive Body is designed to interchange with the TWLC (Low Clearance) and the new TWSL (SlimLine) Links, lowering your tool investment across each series to broaden your application reach.
The TWSL's narrow width and reduced radius design enables the tool to fit into tight areas where standard low clearance links cannot.