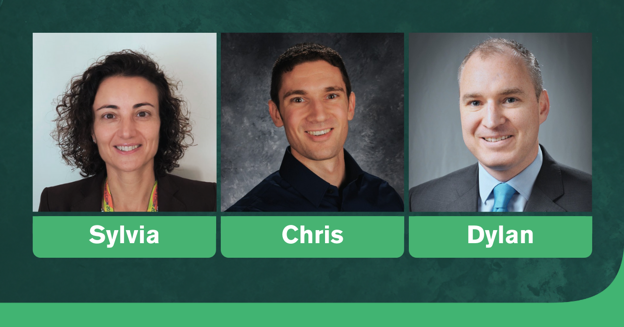 We work with thousands of teams worldwide who help us help you. They're called our channel partners, and they're critical to our customers, our global sales force and our operational success.
Who Are They?
Our expansive network helps our customers in each region and each industry. Their market knowledge, distribution channels and local insight help us develop tailored solutions to solve customers' complex challenges. It's a valued partnership.
As a global company, we have three solution makers who oversee our channel partner relationships. There's a channel director for APAC, another for EMEA and one for the Americas. We asked each to share more about the impact of channel partners:
Americas Channel Director: Chris Sinutko
We want to win together. There are commitments and expectations from both the partners and our team, and our asks are simple, as are theirs. We ask them to loyally represent our company and product brands, take care of our customers and be a voice of feedback and market insights. In return, we supply strong brands, new products of high quality, competitive pricing and lead times, technical support/training, and sales tools.
In North America, we have a well-established channel network. In South America, we have a growing number of channel partners who nurture relationships with customers. This gives us a competitive advantage by offering customers a differentiated experience with localized support and increased responsiveness.
We work with thousands of channel partners worldwide, who serve as local market specialists with responsive insights. Holland Applied is one of our many Platinum distributors in the Americas, helping us develop tailored solutions to solve customers' complex challenges. This video details our valued partnership:
EMEA Channel Director: Silvia Redondo Caballero
In EMEA, we have some of the largest channel partners globally, like AxFlow, and we have smaller partners who have been working with us for more than 40 years.
Channel partners allow us to multiply our customer presence. With them, we "see more" opportunities. We have reorganized our channel structure with managerial support for each partner. There will be managers for: UK & Nordics, South, Central, Eastern Europe and CIS countries, Middle East and North Africa, and Sub-Saharan Africa.
APAC Channel Director: Dylan Reilly
In the Asia Pacific region, almost one-third of our sales are through channel partners. They help us with services like translations, operations and tailored business insights.
In Korea, we have a channel partner that provides around-the-clock support for large end-users using our dehydration technologies for critical applications. Our homogenizer channel partner in Japan offers a solution center where customers can try new production processes and test food samples.
Across APAC, our channel partners know their customer base extremely well, investing in facilities and building capabilities to meet their needs. One industrial channel partner just opened a center in Rayong, Thailand, to support local users of Power Team and Bolting products. Another in Australia recently purchased a plane to quickly transport service teams and parts to regional and remote customer sites. They go above and beyond for us, so we do the same for them.
What Does This Mean?
Our network of channel partners is invaluable. They help get our brand, products and solutions to end-users around the world. In turn, we're confident our customers will leverage these innovative and sustainable solutions.