Product Type:
SPX FLOW Seital Separation Technology offers a wide range of self-cleaning clarifiers for liquid/solid separation.
SPX FLOW Seital Separation offers a wide range of self-cleaning clarifiers for liquid/solid separation. The clarifier allows the recovery of fine particles (0.5-500 m) and/or a strong clarification of liquids by means of a very high peripheral centrifugal field (G-force).
Download the Latest brochure and discover how and SPX FLOW Seital Separation Technology Clarifier helped Brewfist Craft brewing company expand capacity while maintaining quality.
Setial in Action - Beer clarifiers for craft breweries Brewfist, Italy || PDF 
---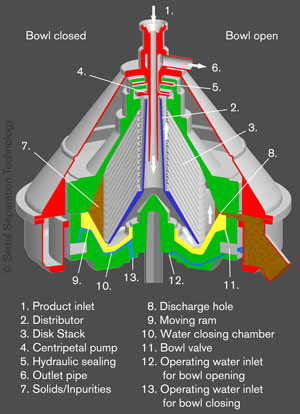 Clarification
The product to be clarified flows into the bowl through a feed pipe(1)and into the distributor(2) it then undergoes acceleration until it reaches the rotating speed of the bowl. The distributor(2)conveys the product to the disks stack(3)where the clarification takes place. The clarified liquid then rises in the disks stack and reaches the upper chamber of the bowl. Here a fixed centripetal pump(4) conveys it under pressure to the outlet pipeline(6). A hydraulic sealing device (5)prevents product oxidation due to ambient air.
Solids discharge
The separated solids are collected in the peripheral part of the bowl(7)and are periodically discharged through the discharge holes(8). The discharged solids are collected into an outer annular chamber connected to a damping sludge tank where they are drained away by gravity through a pipe.
The pressure produced by water in chamber (10) keeps the hydraulically operated ram (9) in a closed position. By feeding water through the pipeline (12), the bowl valve (11) allows the water in the chamber (10) to flow away; the product pressure pushes down the hydraulic ram and the solids are immediately ejected through the discharge holes (8). By stopping the water feed (12) and filling the closing water line (13) into chamber opening (10), the hydraulic ram goes back to the closed position.