Product Type:
Plenty swivel angle mixers for tank cleaning operations and the prevention of harmful sludge settling.
Benefits:
Over 30 year's operational experience specifically developing and utilizing swivel angle mixing technology
Identical rugged, heavy duty design as for fixed angle mixers to extend service life
Minimum maintenance requirements
Gear or belt drive options (see Models tab)
Mechanical seal is standard supply
Manufactured on modern computer controlled machining centers
Optional automatic actuators available to negate need for manual swivel angle change
CE & ATEX 2G certification available
Unique Tank Shut-Off Device
All units incorporate a tank shut-off device to allow the shaft seal and bearings to be changed under full tank conditions. The tank shut-off mechanism incorporates tapered metal to metal faces, positively clamped by a bolted flange which both seals products in the tank and securely supports the shaft during bearing and/or shaft seal changes.
All tapered faces are wear and corrosion resistant. The most important aspect of the Plenty Shut-off and mechanical seal assembly is that it incorporates a safety check valve for ensuring that the shut-off is 100% effective before removal of any bearings or the mechanical seal. The Plenty shut-off mechanism offers complete safety and security as it does not incorporate any flexible O rings or gaskets which may deform, wear, or perish.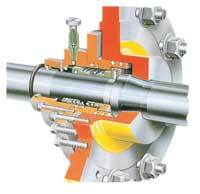 Crude Oil, Bottom Sludge and Water (BS&W)
In most crude oils there are varying quantities of Bottom Sludge and Water (BS&W) which contains paraffins, heavy ends, sediments of sand / silts and water. The rate of accumulation varies with the quality of the crude stored.
Swivel Angle mixers incorporate a feature which allows the mixer angle of entry to be varied through 30° either side of the tank centerline in 10° increments and enables the entire tank floor to be directly scoured by the impeller flow stream. This is the only satisfactory solution to BS& W control in large tanks and ensures that the heavy solids, water and corrosive salts which settle in areas least agitated by a permanently fixed mixer are maintained in suspension.
Some of the main reasons why BS&W should be controlled are:
Tankage is always available for storage and not out of commission being cleaned or repaired
Problems of sludge disposal are overcome.
Accumulation of BS&W can cause severe corrosion of tank floor and lower shell plates.
Hazardous, dangerous and costly tank cleaning is practically eliminated.
Large accumulations of BS&W can dramatically reduce 'operations' flexibility.
If slugs of BS&W break free during pump-down then serious damage to the transfer pumps or even disruption of the refinery operation can result.
Elimination of "plugged" water drains.
Combined Duties
It is possible that one or more of the duties may apply to a particular application and the most critical duty must determine the selection of mixer.
Swivel Mixers are capable of performing the same duties as a fixed angle mixer when fixed in the correct position.