Product Type:
The Universal 2 positive displacement pump modified - specifically designed for the pulp and paper industry.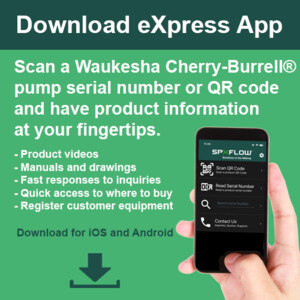 Key advantages of the SP (starch pump) Universal 2 Paper Industry Pump in paper mill applications:
Pumps filled with settled slurries will start without damaging pump or seals
Pump with water flushed seals can run dry indefinitely
Low shear pump will not harm sensitive polymers or cooked starch
Smooth pulsation free flow
No internal rotor contact
Shaft timing less critical than lobe pump design
Typically requires less horsepower than Progressing Cavity
Bearing Isolators available
Waukesha Cherry-Burrell, an SPX FLOW brand has been a leader in the design, manufacturing and application of external circumferential piston (ECP) style, rotary positive displacement pumps. Our Positive Displacement pumps are in thousands of challenging chemical and industrial applications.
The ECP positive displacement pump offers a number of unique advantages. This pump will handle settled slurries that jam up lobe pumps or progressing cavity pumps with ease. It also imparts very low shear forces to the pumped product, far lower shear than lobe pumps or progressive cavity pumps. The ECP pump is designed for 300°F (149°C) and is not damaged by hot products. If we flush the mechanical seal, the pump can run dry forever as there is no internal contact.
The ECP positive displacement pump has features the paper industry has demanded for a long time.
Brochures
Universal 2 PD Pulp and Paper Pump - FH-1738
‖ US
FH-1728 – Pump Remanufacturing Program
‖ US
Flyers
SP Series PD Pumps Product Highlights Flyer - FB-0010
‖ US
High Precision Pump Shaft Bearings - FH-1805
‖ US
FH-1912 Preventive Maintenance Checklist for PD Pumps
‖ US